We have one more week here until Son and Heir is released into the wilds of the school ground. At the same time, Lil Miss is back at creche and I am back at work. It's going to be busier than ever for our little family this year. In my usual obsessive way, I am tackling the issues at hand with innumerable lists scrawled on the backs of envelopes, building a system of organisation intended to keep me sane. Whether or not it works is another issue altogether. This year's routine is uncharted territory.
Firstly, there is the issue of how to pack lunch. We do not use disposable lunch wrappings or packaging in this house and Son and Heir's school support this with a three day a week 'nude food' policy. We have a shiny new insulated carrier as we were one short.
Next issue, fabric lunch wraps. The Bread Winner borrowed Son and Heir's large fabric wrap and lost it at work last year. In addition to this, I find that the oil cloth wraps are quite high maintenance and don't respond well to the all to frequent tomato spills. I rummaged through my fabric stash and found some left over PUL from my nappy days which matched the fabric we bought for Son and Heir's art smock and library bag and whipped up a few more. The PUL will make them much lower maintenance. Then, to finish, name tags were sewn on each one.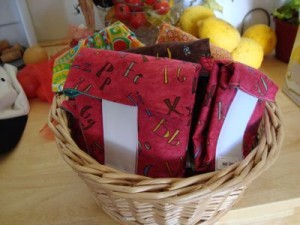 Now that the trappings are arranged, it's the actual food that needs to be considered. First, a list of possibly meal and snack items is compiled, printed and placed on the fridge for easy reference of an evening when my brain is fried.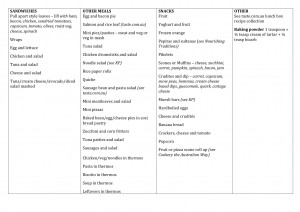 I can't seem to get that list on to here in a readable format. No idea why but rather than waste an evening trying to figure it out, I'll just copy the contents.
Column 1. Sandwiches
Pull apart style loaves – fill with ham, bacon, chicken, sundried tomatoes, capsicum, tomato, olives, roast veg, cheese, spinach
Wraps
Egg and lettuce
Chicken and salad
Tuna and salad
Cheese and salad
Tuna/cream cheese/avocado/diced salad mashed
Column 2. Other Meals
Egg and bacon pie
Salmon and rice loaf (taste.com.au)
Mini pies/pasties – meat and veg or veg in mash
Tuna salad
Chicken drumsticks and salad
Noodle salad (see KP)
Rice paper rolls
Quiche
Sausage bean and pasta salad (see taste.com.au)
Mini meatloaves and salad
Mini pizzas
Baked bean/egg/cheese pies in sorj bread pastry
Zucchini and corn fritters
Tuna patties and salad
Sausages and salad
Chicken/veg/noodles in thermos
Pasta in thermos
Risotto in thermos
Soup in thermos
Leftovers in thermos
Column 3. Snacks
Fruit
Yoghurt and fruit
Frozen orange
Pepitas and sultanas (see Nourishing Traditions)
Pikelets
Scones or Muffins – cheese, zuchhini, carrot, pumpkin, spinach, bacon, jam
Crudites and dip – carrot, capsicum, snow peas, hommus, cream cheese based dips, guacomole, quark, cottage cheese
Muesli bars (see KP)
Hardboiled eggs
Cheese and crudités
Banana bread
Crackers, cheese and tomato
Popcorn
Fruit or pizza scone roll up (see Cookery the Australian Way)
Column 4. Other
See taste.com.au lunch box recipe collection
Baking powder 1 teaspoon = ½ teasp cream of tartar + ¼
teasp bicarb
My aim over the next week is to stock up on freezeable lunches. The weather, however is working against me. It's going to be hot every day this week and not conducive to long baking sessions. To get around this, I will plan one thing to make every day and cook it when the oven is already in use. Preferably early in the morning or late at night when the heat of the day is done. Today I will be making mini meatloaves. They can cook while the stuffed zucchinis for dinner tonight are in the oven. Tomorrow I will need to bake bread which I'll do early. I'll make a double or triple batch and freeze the surplus ready for sandwiches.
So what clever ideas do you have for school lunches? Both organisational and contents. The more ideas the merrier because it's a tiresome, thankless task.