Once a week I like to gather any scraps of food that have accumulated throughout the week to cook into something else to avoid wastage.
All that today's clean yielded was half a cup of corn and carrot salad, 1/3 cup grated cheese and 3 egg whites. Just enough to make lunch for two or three depending on appetite sizes.
Carrot and Corn Pikelets
1/2 cup carrot and corn salad, drained*
1/3 cup grated cheese
3 egg whites
2/3 cup wholemeal flour
1/3 cup milk
1. Combine all ingredients into a thick batter
2. Panfry in a little olive oil and butter.
3. Serve with mayonnaise and finely sliced spring onions.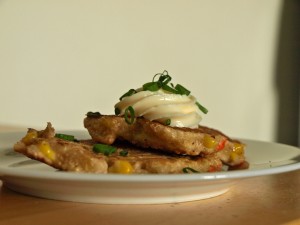 * Carrot and Corn Salad is from Adam Liaw's Two Asian Kitchens. I made a batch early in the week and had a little with my lunch each day. Delicious!
Raw Corn and Carrot Salad
1/2 small carrot
1/2 red onion
2 corn cobs
Dressing
2 tablespoons Kewpie mayonnaise
1 tablespoon yoghurt
1 tablespoon lemon juice
2 teaspoon honey
1 teaspoon harissa
1/4 teaspoon ground cumin
1/4 teaspoon ground tumeric
1. To make dressing, combine all ingredients and season with salt and pepper. Leave in fridge for 30 minutes for flavours to blend.
2. Peel carrot and cut into 5mm cubes. Finely dice onion. Cut kernels from cobs.
3. Toss vegetables and dressing together and serve.