I deserted this little bloglet over the weekend in favour of particpating in real life. It happens sometimes.
On Saturday night, I gussied up, deserted Ankle Biter and the Bread Winner and headed out to a friend's 40th. Fun, fun, fun! Bubbles, red wine, lots of lovely party food and great conversation. Not to mention the party girl morphing briefly into John Travolta. Not a sight to be missed! Happy birthday girl, glad I could be there to celebrate with you.
Sunday required further frocking up for a very special event. Middling brother and his wonderfully gorgeous partner tied the ol' matrimonial knot. Friends and family gathered for a wonderful afternoon of basking in the warm glow of their nuptial bliss. All went off superbly with bride, groom and the nevvies looking spectacularly splendid. The weather was windy but generally kind. Many tears were shed and all of them happy. Much joy.
Congratulations to them both and good work bro, glad you realised she's a keeper!
Despite all this partying, I have spent some time in the kitchen, albeit in a more disjointed fashion than is my usual wont. I can highly recommend Kalyn's mint and cannellini bean salad, the crispy prawn spring rolls with vermicelli noodle salad from taste.com.au and Donna Hay's malted oat and raisin biscuits (I halved the sugar).
In bread news…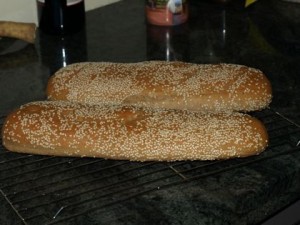 Seeded Spelt Baton
adapted from World Breads by Paul Gayler
300g spelt flour
200g bread flour
2 teaspoon salt
5g dry yeast
2 teaspoon honey
280ml warm water
1 tablespoon sunflower seeds
1 tablespoon pumpkin seeds (pepitas)
2 tablespoons sesame seeds
Mix flours and salt well ina large bowl (or pulse twice in thermomix)
Mix yeast, honey and water in a small bowl until smooth
Add yeast mixture to flour, combine and need for 10 minutes (5 seconds on speed 7 in thermomix and then knead for 8 minutes).
Add seeds and knead for one minute more (same by hand or thermomix)
Place dough in lightly oiled bowl. Leave to prove for 1 1/2 hours.
Preheat oven to 190 degrees
Knock back and shape into two batons. Roll in sesame seeds to coat. Leave to prove for another half hour
Bake for 30 – 35 minutes until golden and crisp. Transfer to a wire rack to cool.