Sometimes, an odd scrap of leftovers leads me in an unusual direction. Today was one of those days. It all began with 6 sheets of leftover spring roll wrapper. I'll tell you in advance, the gamble paid off. Dessert was delicious.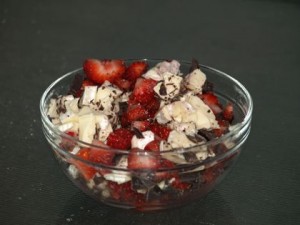 Strawberry, chocolate and camembert dessert rolls.
makes 4, I only made three because that's how many wrappers I had left, 4 would make a better sized roll
125g camembert, chopped into small pieces
2/3 punnet strawberries, chopped into small pieces
50g fair trade dark chocolate, finely chopped
8 square spring roll wrappers
2 – 3 tablespoons melted butter
Preheat oven to 230 degrees
Combine cheese, strawberries and chocolate well
Place 2 wrappers together, spoon 1/4 mixture on top and fold into spring roll shape.
Repeat until you have 4 rolls.
Brush with butter on both sides
Bake for 5 minutes or until golden, turn and cook for another 5 minutes until both sides are golden.