Ahh Vietnamese food. It never fails to delight. Never. Every dish was hungrily gobbled and loudly praised this evening.
The soup was magical. My love for pho is not unknown but I simply did not have the time to make the stock. I've found my quick substitute soup. The beef and Vietnamese coriander soup is light, refreshing and fish saucy. Everything a Vietnamese soup should be. Fortunately, I resisted the urge to fill up on it and saved myself for the fish, rice and salad.  The salmon was delicately steamed and topped with the most flavoursome of garlic and ginger sauces. The salad was crunchy and light and a perfect accompaniment to the fish and rice. Best of all, there is enough of the salad left to stuff into a baguette for lunch tomorrow. It won't be at it's peak but I have confidence that it will make a great salad roll.
First Born has rated his Asian country's foods. His favourite is Vietnamese, Japan in second place and Thailand third. Which surprised me because the amount he ate, in descending order, was Vietnamese, Thai and Japanese.

Recipes from Into the Vietnamese Kitchen by Andrea Nguyen
Canh Thit Bo Rau Ram (Beef and Vietnamese coriander soup)
I couldn't get my hands on any Vietnamese coriander (which is odd), so I used standard coriander as I had plenty of it.
1 tablespoon rice bran oil
1 small onion, thinly sliced
400g hand minced beef steak (or best quality mince/ground beef)
1 1/2 tablespoons fish sauce
3/4 teaspoon salt
7 cups water
1/3 cup fresh chopped Vietnamese coriander leaves
black pepper
In a large saucepan, heat oil. add onions and cook over medium heat for a few minutes until soft and fragrant.
Add beef and move around in the pan until it is well broken up. When it colours add salt and fish sauce. Cook for about 1 minute.
Add water and bring to the boil. Skim any scum off with a ladle. Simmer for about 15 minutes or until it reduces by about 1/5.
Just before serving, taste and add extra fish sauce or salt if needed. Turn off heat, stir in leaves until just wilted and serve.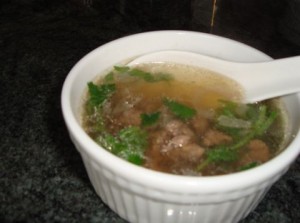 Ca Hap Toi Gung (Steamed salmon with garlic and ginger)
The book gives instructions for cooking with a saucepan and steamer. I will give the thermomix instructions that I used.
1 1/2 teaspoons sugar
1/4 teaspoon black pepper
2 tablespoons oyster sauce
2 tablespoons soy sauce
2 1/2 tablespoons rice bran oil
3 cloves garlic, finely chopped
2 inch piece of ginger, peeled and finely shredded
3 spring onions, chopped
1 spring onion, white part only, cut into long strips
1 large piece salmon
Chop garlic and ginger in thermomix for 5 – 10 seconds on speed 6. Scrape down sides. Add oil and cook at 100 degrees for 3 minutes on soft speed.
Add oyster sauce and soy sauce and cook at 100 degrees for 5 minutes on soft speed. Add spring onions and scrape out of thermomix into a seperate bowl.
Place rice in steamer basket and set to cook at varoma temperature for 16 minutes on speed 4. After 6 minutes place fish, in varoma tray and attach.
To serve, remove fish from varoma, slide onto a plate and top with sauce. Serve with steamed rice.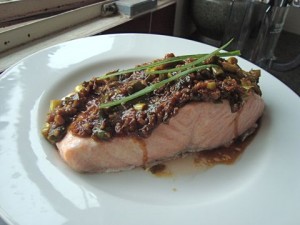 Dua Gia (Crunchy bean sprout salad)
23 cu sugar
1 1/2 teaspoons salt
1 cup white vinegr
1 cup water
500g bean sprouts
1 carrot, peeled and cut into matchsticks
5 small or 4 medium spring onions, green part only, cut into 3cm lengths
To make brine, in a small saucepan, combine sugar, salt, vinegar and water and heat over medium heat, stirring until all sugar and salt have dissolved. Remove from heat and allow to cool completely.
No more than two hours, or less than 30 minutes before stirring. Combine vegetables, pour brine over and gently toss with hands until all coated. When ready for eating, the brine will almost cover them and the vegetables will be crunchy and tangy. When satisfied with the flavour, drain and serve on a plate.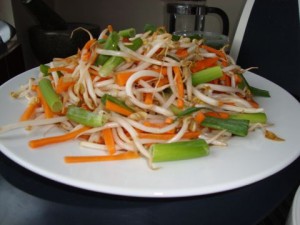 And there ends the mini-tour of Asia. Tomorrow, we move on to Europe!