I have a word document which is a series of urls. Recipes and crafty ideas that have taken my fancy and that I've not gotten  around to as yet. It's a wonderful source of inspiration when I'm out of ideas. Today was one of those days. The end result was fantastic. The aroma of the cooking meal permeated through the house and brought all family members salivating to the kitchen. The flavours were every bit as good as the smell promised they would be. I had intended to include silverbeet but somewhat stupidly, I forgot.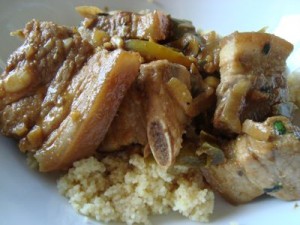 Curried pork spare ribs with cous cous
inspired by half baked homemaker
2 tablespoons oil
1 onion, sliced
1 green capsicum, sliced
8 cloves garlic, finely chopped
1 tablespoon Malaysian curry powder
1 tablespoon muscovado
6 free range pork spare ribs, cut into small pieces
2 tablespoons fish sauce
500g cous cous
1 teaspoon salt
1 teaspoon muscovado
1 teaspoon freshly ground black pepper
1 tablespoon cayenne
1 tablespoon ground ginger
small bunch snipped chives
3 tablespoons chopped basil
500g cous cous
Heat oil in a large fry pan. Add onions, saute one minute. Add capsicum and garlic and saute 3 more minutes.
Add pork, half the curry powder and  the muscovado. Saute, stirring for 1 minute and then deglaze with fish sauce.
Cook, stirring occasionally until pork is almost cooked through.
Add remaining spices and cook, stirring occasionally until pork is completely cooked and juices have thickened.
Meanwhile, cook cous cous in a large bowl of boiling water with remaining curry powder.
Serve pork over cous cous.