The days between Christmas and New Year tend to be such a pleasant interlude. Lot's of pottering and purging and rearranging. There is a timeless quality of not being exactly sure what day of the week, or even what day it is. Not only a very pleasant time but also strangely productive.
After five or so hours of cupboard cleaning and rearranging today, I turned my thoughts to dinner. Pre-lunch nibbles on Christmas Day included tea smoked salmon that simply begged to be emulated. So emulate I did. I made the wise decision to do this in the wok on the barbecue wok burner. It's a fairly stinky job, best to avoid doing it inside if possible. If not possible, open all doors and windows!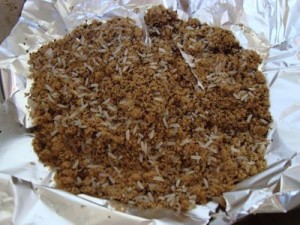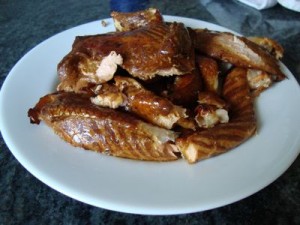 Rather than a nice chunk of salmon, I had some scraps of salmon belly. A very economical way to purchase salmon if you are making something that will ultimately require the salmon to be cut into small chunks. Once the salmon was smoked, it was only a matter of minutes to turn it into a hearty spaghetti sauce.
Tea Smoked Salmon Pasta Sauce
300g tea smoked salmon, cut into small strips
3 tablespoons butter
5 mushrooms, sliced
3/4 cup cream
handful snow peas, roughly chopped
small bunch chives, snipped
seasoning
parmesan to serve
Melt butter in pan and add mushrooms. Saute until soft.
Add cream, snow peas and salmon. Saute 1 more minute.
Add chives and season to taste.
Serve over pasta. Add parmesan to taste