It was apt that I started my cook book challenge with Women's Weekly Dinner Party Cook Book No. 3 as we had dinner guests last night. As it was a mid-week affair, I forwent the full degustation catastrophe and settled for appetisers, sorbet, main meal and dessert. The main meal was the featured cook book offering.
So without further ado, I present you with our menu;
Appetisers
baked black olives with oregano and chilli and goat cheese on crackers
Sorbet
lemon vodka sorbet
Main Meal
Eye Fillet with pepper crust, potatoes with sun-dried tomatoes and basil, beans in chive butter and dinner rolls
Dessert
Strawberry and chocolate twirl ice cream
And the recipes;
baked black olives with oregano and chilli and goat cheese on crackers
this is something I've been meaning to try to use up some crappy black olives I bought by mistake. It worked so well that now I'm ding to try it with good olives.
1/2 cup olives
generous splash extra virgin olive oil
large sprig oregano, roughly torn
2 red chillis, finely sliced
100g piece goat cheese
crackers to serve
Preheat oven to 180 degrees.
Place olives, olive oil, oregano and chilli n baking dish and toss until everything is coated in oil
Bake for about 20 minutes or until olives start to wrinkle
Serve with cheese and crackers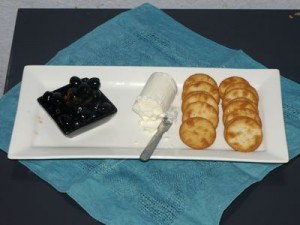 Eye Fillet with pepper crust
adapted from Women's Weekly Dinner Party Cook Book No. 3
1 piece grass fed eye fillet
Pepper Crust
1 tablespoon dijon mustard
1 cup bread crumbs
1 teaspoon seas salt
1 teaspoon coriander seeds
2 teaspoons black pepper
2 cloves garlic, finely chopped
1 teaspoon mustard seeds
1 teaspoon minced onion
1 tablespoon minced parsley
1 egg
1 tablespoon melted butter
3 tablespoons white wine
Gravy
1/3 cup plain flour
1 cup red wine
1 cup demi glace
pan juices
Heat a little oil in a fry pan. Brown met on all sides. Cool.
Combine all pepper crust ingredients. Press over beef.
Preheat oven to 180 degrees. Bake for 1 hour or until cooked as desired.
Drain juices into small saucepan with all other gravy ingredients. Heat, stirring until thickened.
potatoes with sun-dried tomatoes and basil
adapted from Women's Weekly Dinner Party Cook Book No. 3
I made this the day before and reheated it for 20 minutes.
3 large potatoes
1 small leek
2 cloves garlic, crushed
1/2 cup sun dried tomatoes
1/4 cup shredded basil
300ml pure cream
1/4 cup milk
1/2 cup grated emmenthal
Grease a large baking dish.
Thinly slice potatoes
Heat oil in a frypan, add leeks and garlic and cook until leeks are soft. Remove from heat and stir in basil and tomatoes.
Spread half the potato slices in the baking dish, top with leek mixture, cover with remaining potato.
Mix milk and cream together and pour over potatoes.
Top with cheese.
Bake in a moderate oven for an hour or until potatoes are tender.
beans in chive butter
adapted from Women's Weekly Dinner Party Cook Book No. 3
500g green beans, topped and tailed
100g butter
1 clove garlic, crushed
1 bunch chives, snipped
1/4 cup toasted pine nuts
Place everything except pine nuts in a saucepan and place lid on. Bring to a simmer for 5 minutes.
Place in serving dish and top with pine nuts.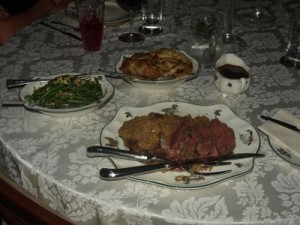 Shaped dinner rolls
from The World Encyclopedia of Bread and Bread Making by Christine Ingram & Jennie Shapter
450g bread flour (I need about 1/3 cup more than this)
2 teaspoons salt
1/2 teaspoon sugar
6g dried yeast
50g butter
250ml lukewarm milk
1 egg
For the glaze
1 egg yolk
1 tablespoon water
poppy seeds and sesame seeds for sprinkling
Sift dry ingredients together
Rub in butter until it resembles breadcrumbs
Make a well in the middle, add egg and milk and mix to a dough.
Knead for 10 minutes until smooth and elastic
Place in a large bowl, cover and leave for an hour or until doubled in size
Turn out onto lightly floured board, knock back and knead for another 2 – 3  minutes
Divide dough into 12 pieces and shape into rolls
Preheat oven to 220 degrees
Leave to prove for another 30 minutes
Bake for 15 – 20 minutes or until golden
Place on wire rack until cool
Chocolate and raspberry twirl ice cream
This is a combination of a chocolate ice cream recipe from Stone soup and a raspberry ice cream recipe found on a magazine clipping. Not enough of the clipping remains to know where it was originally from. I adapted both recipes to thermomix use.
Firstly, to make the chocolate ice cream in the thermomix;
heat the milk and cream for 6 minutes at 100 degrees on speed 4
add chocolate and blend for 30 seconds on speed 2 and then 30 seconds on speed 1
add eggs and cocoa and blend for 5 seconds on speed 5
cook for 3 minutes at 80 degrees on speed 2
Now for the raspberry;
3 eggs
2 egg yolks
1 cup caster sugar
375g fresh or frozen raspberries
1 1/2 cups pure cream
Put eggs, egg yolks and sugar in a heat proof bowl. Place over a saucepan of simmering water and whisk for 4 minutes, or until frothy. Remove bowl from heat. Beat mixture with an electric beater until pale and thick. In thermomix, cook for 4 minutes at 90 degrees on speed 4 then 1 minute at 90 degrees on speed 3. Remove from thermomix bowl and place in large jug.
Place berries in food processor or thermomix and process for 10 – 20 seconds (10 seconds on speed 7 in thermomix). Fold raspberry mixture into egg mixture.
Beat cream until thick (10 seconds on speed 4 with butterfly in thermomix). Fold cream into raspberry mixture.
Now for the twirl;
Have raspberry mixture in one jug and chocolate in another.
Select a large container suitable for freezing ice cream.
Gently pour from both jugs into the container at the same time
Place in freezer for at least 6 hours until firm.