Market day makes me want to stuff as much of that freshly picked vegetable goodness into my gob as humanly possible in one day. As each day of the week passes by, they are that little bit less fresh, that little bit less nutritious. Always good until the end though.
This morning, I got caught up in the whole vegetable splendour and possibly bought a little more than I should. It clean fled my mind that we will be away next Friday, Saturday and Sunday. Never mind, nothing will go to waste. Waste is anathema to me. I certainly made good inroads into our supplies today.
Lunch was an oldy but a goody, zucchini and corn fritters. Served with tomato relish. The tomato relish was home made wonderfulness courtesy of a workmate, Linda.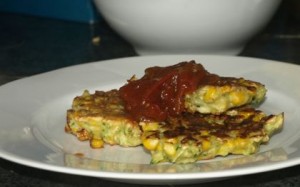 Corn and Zucchini Fritters
1 zucchini, finely grated
2 corn cobs, corn kernels sliced off
1 cup flour
2 small or 1 large egg
1/4 cup milk
2 tablespoons butter
2 tablespoons oil
Combine all ingredients except butter and oil in large bowl
Place oil and butter in large frypan and heat. Spoon tablespoons of mixture into frypan and flatten slightly.
Cook on both sides until each side is golden.
Serve with relish, chutney or even plain yoghurt
And then to dinner. Western soups are all about winter. Fortunately, warm weather doesn't mean no soup, just a switch to Asian style soups. Lovely flavoursome broths full of noodles and strips of crunchy fresh vegetables. Refreshing even in the hottest weather. The trick is to make sure you have decent home made stock in the freezer at all times. Some home made laksa paste lurking in the fridge sure helps too. The colours of the vegetables are so vibrant at this time of year.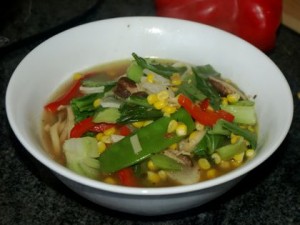 Asian Style Vegetable Soup
2 tablespoons laksa paste
4 cups chicken stock
2 bok choy, sliced
10 snow peas
3 baby turnips, peeled and sliced
1 baby carrot (more if you like, I just found a leftover in the bottom of the veg crisper)
1/2 red capsicum, sliced
1 corn cob, kernels sliced off
noodles, prepared according to packet directions.
Heat laksa paste in a large saucepan until fragrant then add stock.
When stock comes to the boil, through in all the vegetables and simmer for 3 minutes with the lid on
Divide noodles amongst bowls and ladel soup and vegetables over the top
We even had dessert. A rare occurrence at Chez KP, much to the Bread Winner's disgust. Sweet is not so much my thing. I will confess to some marital discord over the disappearing last piece but reparation was made when I whipped up a fresh little individual apple and strawberry crumble for the poor deprived man. I couldn't help filching the last piece. Honest. I went for 2 runs today. I needed sustenance in the form of crumbly goodness.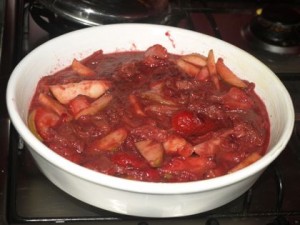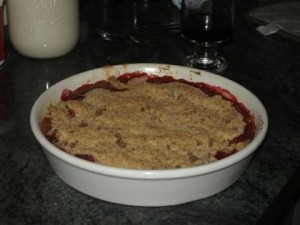 Four Fruit Crumble
1/3 cup rapadura
juice 2 blood oranges
1 small apple, sliced and cored
1 corella pear, sliced and cored
65g strawberries, sliced
1 bunch rhubarb, trimmed, cut into 5cm lengths
1 cup plain flour
80g butter, chopped
1/3 cup rapadura
1/3 cup shredded coconut
Preheat oven to 180 degrees
Combine sugar and orange juice in a saucepan
Stir over medium heat until sugar dissolves. Bring to boil, lower heat and add rhubarb. Cover and simmer for 5 minutes until tender
Remove from heat, stir in the strawberries, apple and pear
Place in a greased ovenproof dish or individual ovenproof dishes
Rub flour, rapadura, coconut and butter together until it resembles bread crumbs. Sprinkle crumble topping over fruit (20 seconds reverse speed 4 in the thermomix)
Bake for about 30 minutes or until golden brown
Serve with pure cream