Today was 30 degrees. That's 86 if you speak Farenheit. It's going to be a long hot summer.
Which prompted me to make a summery meal. Well that and the fact that I had nothing planned, some scraps that needed using, lunches to make, no bread and not a lot of time on my hands.  Want to know my favourite thing about making quiche? One batch of shortcrust pstry makes enough pastry to make quiche for dinner plus a few mini quiches for lunch the nest day. Two meals made in the time it takes to make one quick meal.
The quiches I made tonight were not only vegetarian but eggless too. Not vegan though, lots of butter in the pastry and cheese in the filling. It would be esy enough to convert it to vegan if that's what floats your boat. Coconut oil works well in shortcrust pastry and then all you would need would be soy cheese. This is such a malleable recipe, I'll tell you what I used but throw anything in and it's almost guaranteed to work.
Spring Vegetable Quiche
makes 1 family quiche and 5 mini quiches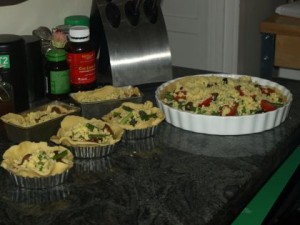 1 batch shortcrust pastry
1 cup leftover brown rice, silverbeet and cheese bake
handful green beans
handful snow peas, sliced lengthways
4 brussel sprouts, finely chopped
1 punnet cherry tomatoes, thickly sliced
2 cups grated tasty cheese
Preheat oven to 180 degrees
Roll pastry out and line quiche dishes
Spread rice over base of quiche and arrange vegetables on top of that.
Scatter cheese evenly over the top
Bake until melted and golden brown
Serve hot, warm or cold. It's all good.