I do wish that didn't make me think of Nicole and Keith's baby. Really, did they not test the name out from every angle or did they just not care?
Anyhoo, 'nough 'bout that. Sunday roast can be a variable thing in our house. No firm favourites, no set tradition. Tonight, it's roast chook. One thing I always do when I roast a chook is to butterfly it and marinate in a combination of lemon juice, olive oil, seasoning and oregano. Accompaniments will be small nicola potatoes roasted whole, turnip cut into wedges and roasted, roasted Brussel sprouts, steamed garden peas and snow peas and Kalyn's parmesan encrusted zucchini. Gravy of course goes without saying. It wouldn't be a roast without gravy.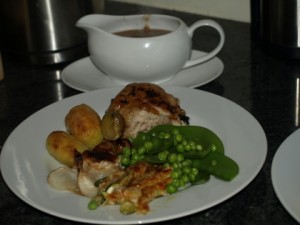 Lot's of vegetables means less meat will be eaten and that means we have roast chicken left over for sandwich meat. That will go perfectly with the mayonnaise I made this morning.
Approx. cost per serving $2.00
So tell me, how do you do yours?