If you adapt an adaptation, how do you know if you just recreated the original? Assuming of course that you haven't seen the original. Highly unlikely in this instance but it's something to think about nonetheless. Or not. As you choose.

Steamy Kitchen's Jaden adapted this from Cooking Light The Complete Cook Book. I adapted Jaden's adaptation. Obviously.
Moroccan Chicken: Figs, Olive and Honey
weird huh? good though
2 teaspoons olive oil
600g chicken skinless, boneless chicken thighs, cut into large pieces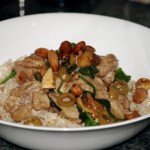 1/2 cup quartered dried wild figs
1/4 cup chopped green olives
2 tablespoons riesling
1 tablespoon raspberry cranberry juice
2 tablespoons honey
3 cloves minced garlic
2 tablespoons balsamic vinegar
1/2 teaspoon ground coriander
1/2 teaspoon ground cumin
1/4 teaspoon ground cardamom
2 cups baby spinach leaves
optional almonds for scattering on top (assuming of course you don't have braces)
Heat oil in a large frypan over medium-high heat. Add chicken; cook 5 minutes or until browned, stirring frequently. Stir in next 9 ingredients; reduce heat to medium and cook 8 minutes; stirring occasionally. Add spinach, stir until wilted.
I served it over brown rice. I garnished mine with a handful of roasted almonds scattered on top. Because I don't have braces. They were a delicious touch.