I've been looking forward to tonight's dinner. Lot's of lovely aromatics which are mostly fresh from my garden. Something that always warms the cockles of my grumpy heart.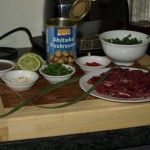 Thai Style Beef and Mushroom soup
adapted from Super Food Ideas, April 2004
2 cups chicken stock
1 cup water
1 stick lemongrass, white part only, chopped
2 cm piece of ginger, sliced
2 kaffir lime leaves, thinly sliced
1 red chilli, thinly sliced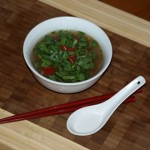 400g can shitake mushrooms
200g piece of beef, thinly sliced
1 lime, juiced
2 tablespoons fish sauce
1 tablespoon palm sugar
2 spring onions, sliced
1/2 cup coriander leaves
1 extra red chilli, thinly sliced
Bring stock, lemongrass, ginger, lime leaves and chilli to the boil. Reduce heat and simmer for 10 minutes.
Add mushrooms, beef, lime juice, fish sauce and sugar. Simmer for another 2 minutes. Ladle into serving bowls and garnish with spring onions, coriander and chilli.
Chinese Broccoli and Mushroom Omelette
also adapted from Super Food Ideas, no idea which edition
Chinese broccoli is also known as gai lan or kai lan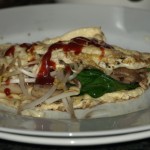 1/3 cup hoisin sauce
1 teaspoon sesame oil
4 eggs
1/3 cup water
1/4 cup rice bran oil
500g button mushrooms, thinly sliced
1 bunch Chinese broccoli, cut into 5 cm pieces
handful bean sprouts
Combine hoisin sauce and sesame oil.
Whisk eggs and water together. Heat a little of the rice bran oil in a wok over high heat. Add a quarter of the egg mixture, tilting wok so it spreads. Lift edges to let uncooked egg run under . Cook until just set, slide on to a plate and keep warm. Repeat to make a total of 4 omelettes. Heat a little more oil in wok over medium heat. Add mushrooms and cook until tender. Add broccoli and stir for 1 more minute.
Place omelettes on serving plates and spread mushroom mixture onto one half of each omelette. Top with bean sprouts and fold omelette over.
Drizzle hoisin over top.

Garlic and Sesame Stir Fried Asian Greens
and again, adapted from Super Food Ideas, June 2005
1 bunch bok choy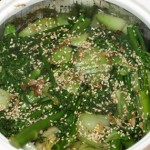 1 bunch broccolini
4 tablespoons sesame seeds
1 tablespoon rice bran oil
5 garlic cloves
2 cm piece of ginger, finely chopped
1 tablespoon soy sauce
1 tablespoon water
1 teaspoon tapioca starch (or corn flour)
Cut broccolini into 4 – 5 cm lengths. Cut leaves from stems of bok choy and slice stems.
Quickly toast sesame seeds in wok until golden. Remove from wok.
Return wok to heat and add oil. When very hot add broccolini and bok choy stems. Stir for 1 minute and add garlic and ginger. Stir for 1 more minute. Add bok choy leaves, soy sauce, water and tapioca starch. Stir fry for one minute more. Serve garnished with sesame seeds.