The Frugies came to visit Son and Heir's kindergarten last week. Today we got a little note from the teacher saying that they left a rainbow chart to encourage the Ankle Biters to eat the full array of fruit and vegetable colours. So we are supposed to send our children in with at least three different coloured fruits or vegetables as part of their snack over the next week. Results to be recorded with a sticker and certificate the dangling carrot at the end of the week. See how I did that? Made a fruit and vegetable joke. Clearly I've been reading too much Bossy and drinking either too much or not enough weekend wine.
Anyhoo, nutrition being a subject close to my heart and food being a subject close to Son and Heir's heart, not to mention both of us having our fair share of obsessive compulsive behaviours, it is entirely possible that we have gone a little overboard in responding to the challenge. Just as it is entirely possible that the previous sentence is far too long.
The prescribed Tuesday kinder lunch is fruit for snacks and then a healthy lunch. We've packed a colourful array of fruit and Son and Heir has drawn the appropriate colour next to the name of the fruit. We've then pasted the list to his fruit box. The list of fruit is;
custard apple (white)
kiwi fruit (green)
grapes (red)
plum (purple)
mandarin (orange)
You'd think that would satisfy our obsessive urges, no? Well apparently not. Because then we decided to make an antipasto style bready concoction just to see how many Frugie approved foods we could fit into one four and three quarter hour kinder session. Of course the lunch box has another coloured chart attached. Which includes;
eggplant (purple)
mushroom (brown)
red onion (white and purple)
spinach (green)
olives (green)
tomato (red)
yellow capsicum (guess)
red capsicum (go on, see if you can do this by yourself)
green capsicum (it's getting harder)
banana (that was another snack, not a weird inclusion in the bread…and it was yellow)
Let's just hope they don't expect us to increase the variety each day. Poor child would be taking his lunch in a shopping trolley by the end of next week.
Antipasto Lunch Loaf
serves 2 – 4 depending on level of greed prevalent in your household
1/2 yellow capsicum
1/2 green capsicum
1/2 red capsicum
1 Lebanese eggplant, finely sliced
1/2 red onion, finely sliced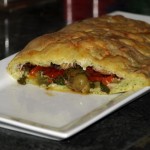 3 mushrooms, finely sliced
1/2 jar semi dried tomatoes
small handful green olives, halved
handful spinach leaves
100g spreadable cream cheese
1 tablespoon oregano
1 slice free range ham off the bone (optional, omit for vegetarian version)
Bread
2 cups self raising flour
1/4 cup chopped chives
2 tablespoons chopped oregano
1 1/4 cups sour cream
1 tablespoon milk
1/4 cup grated tasty cheese
Char grill eggplant and capscium. Cover capsicum with plastic wrap for 10 minutes, remove skin and finely slice.
Preheat oven to 200 degrees.
To make dough:
Combine all bread ingredients in thermomix or food processor (10 seconds on speed 7 in thermomix).
Roll dough out on lightly floured board into a large rectangle roughly 5mm thick. Carefully spread cream cheese, making sure you don't break the dough. Layer all other toppings on, except grated cheese, not too close to edges. Fold over so long edges join. Pinch together to seal. Cut slits in top and cover with grated cheese.
Bake for 20 – 25 minutes or until golden.
Good warm or cold.
He better eat every bite.