I'm not looking forward to the day when my Ankle Biters learn to speak properly. Such a large source of amusement will be gone forever. The Bread Winner took the AB's out to a cafe this afternoon to guzzle beer catch up with a friend and give me some rest. He's a man in a million I tells ya. Son and Heir told me they ate chips and dank babycinos with mashed mallows! And then the man gave them more mashed mallows. So they had two! Such excitement.
Until dinner that is. This soup, along with nigh on every other food Son and Heir has ever ingested, is apparently his favourite. I've never known anyone who loves food quite so much as that boy of mine.
Cauliflower and Mushroom Soup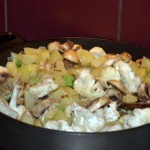 omit the bacon and use vegetable stock if you're vegetarian
30g butter
1 tablespoon olive oil
2 rashers bacon, chopped
3 potatoes, peeled and cubed
2 stalks celery, sliced
1 onion, chopped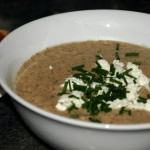 1 chilli, chopped
1 clove garlic, crushed
½ cauliflower, cut into florets
250g mushrooms, sliced
1 cup milk
1 cups chicken stock
300ml sour cream
feta and chives to garnish
Heat butter and oil in saucepan.
Saute potato, celery, onion, chilli and garlic until onion is tender. Add cauliflower and mushrooms. Saute until mushrooms are tender and everything is starting to get a little colour to it.
Blend in milk, stock and salt and pepper. Simmer for 10 – 15 minutes or until potato and cauliflower are tender.
Transfer mixture to a food processor or thermomix. Process until smooth.
Fry bacon until crispy and slice.
Return soup to pan.
Stir in cream and bacon. Reheat, stirring constantly. Serve topped with crumbled feta and chopped chives.