Breakfast can be such a boring rut. Now the weather has turned colder I seem to have left muesli behind and I need something to break the weekday porridge monotony. So I was a very happy puppy when I was sorting through old cook books and found this little number. I used frozen berries, defrosted over night. I was a very annoyed puppy that neither the Ankle Biters nor Bread Winner were fans. I thought it was great.
Berry Cous Cous with Maple Syrup
adapted from Heart Foundation Deliciously Healthy Cookbook, 2001
1 cup cous cous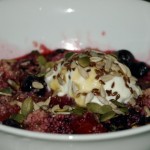 1/3 cup dried goji berries
500ml raspberry cranberry juice
200g strawberries
150g blueberries
150g boysenberries
1 tablespoon chopped fresh mint
200g yoghurt
2 tablespoons pepitas
2 tablespoons sunflower seeds
2 tablespoons linseeds
maple syrup
Put cous cous and goji berries in a bowl. Heat juice until it boils. Pour over cous cous and allow to stand for 10 minutes or until all liquid has been absorbed.
Fold through berries and mint.
Serve and top with yoghurt dollops. Sprinkle with seeds and drizzle with maple syrup.