All it takes is one Ankle Biter to cause a ruckus at 3.30am and the whole family suffers. By this afternoon, I was completely wilted and the AB's could have whinged for Australia. Major distraction necessary. The pasta machine always works. They love turning the handle on that thing. A few stirs at various other stages and peace reigned for nigh on half an hour. Good onya Mum.
We made perfect smooth sheets of pasta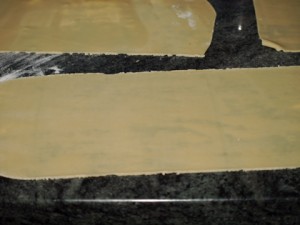 'Cept Rat Girl was helping. She likes to nibble.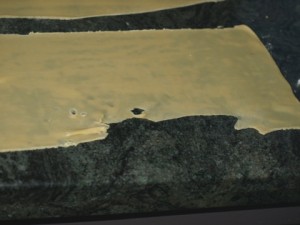 We all stirred the spinach and ricotta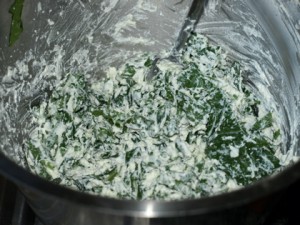 And the result was enjoyed by all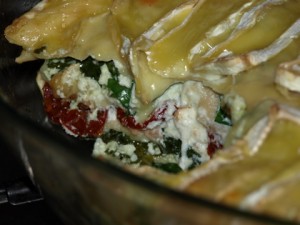 Rather than the English type, I used a wild variety of spinach from the farmer's market, the name of which escapes me. It has a strong mustardy taste and I think it rocks. If you're not in to bitter type greens, just go with standard spinach.
Spinach & Camembert Lasagne
adapted from Super Food Ideas, no idea what edition
Serves 4-6
1 bunch spinach
500g fresh ricotta cheese
50g parmesan cheese, finely grated
1/4 teaspoon ground nutmeg
4 sheets fresh lasagne
125g semi-dried tomatoes
4 – 5 slices smoked salmon (omit for vegetarian version)
200g camembert cheese, sliced thinly
2 tablespoons pine nuts
Preheat oven to 180 degrees.
Grease a 4cm deep, 20cm ovenproof dish. Trim stalks from spinach and discard.
Place ricotta in a bowl. Add parmesan and nutmeg. Season with salt and pepper. Stir until well combined. Set aside one-third of ricotta mixture. Add spinach to remaining ricotta mixture. Mix until well combined.
Line base of greased dish with lasagne sheets, (cut to fit). Spread half the spinach mixture over lasagne. Top with 1 layer of pasta sheets. Spread with smoked salmon then plain ricotta mixture and top with semi-dried tomatoes. Top with 1 layer of lasagne sheets and spread remaining spinach mixture. Top with final layer of lasagne sheets.
Arrange camembert over lasagne. Sprinkle with pine nuts. Bake, uncovered, for 30 minutes (top will puff up, but will settle when it comes out of oven). Remove from oven. Stand for 10 minutes and serve.
Pasta
3 eggs
300g plain flour
10 ml olive oil
Combine and knead until smooth and elastic (2 minutes kneading in the thermomix). Roll out through pasta machine until sheets are thin and smooth.
I used half for the lasagne and froze half for another time.