Mushroom and Brown Rice Casserole
Adapted from Family Circle Fast Vegetarian, Murdoch Books, NSW 1998
3 – 4 slices bread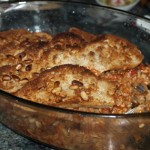 olive oil
1 onions, chopped
325g mushrooms, chopped
440g can tomatoes
2 teaspoons paprika
1 teaspoon marjoram
1 teaspoon thyme
1 teaspoon sage
½ teaspoon muscovado
2 cups cooked brown rice
1/3 cup chicken or vegetable stock
¼ cup pine nuts
Preheat oven to 220
Cut each slice of bread into 3 strips.
Heat 1 tablespoon of oil in frying pan. Add onion and mushrooms and toss over high heat for 2 minutes or until mushrooms soften. Add tomato, paprika, herbs and muscovado. Bring to boil, reduce and simmer for about 2 minutes or until thickened slightly. Add rice and stock mix well. Season
Spoon into an ovenproof casserole and overlap bread on top. Drizzle with remaining oil and sprinkle with pine nuts. Bake for about 10 minutes or until the bread is browned and crusty.