At the very start of winter, I made a massive big pot of minestrone, or what passes for it in this house, I don't stick to a traditional recipe. This week, we finished it. So today I made another pot. When I say massive, I am referring to my industrial size stock pot, the capacity of which I cannot remember at this moment in time. Suffice to say it is large.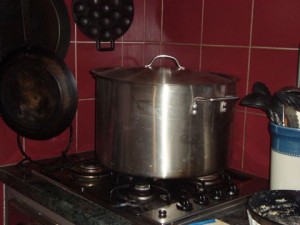 At the farmers market this morning I purchased a nice big, free range, nitrate free, smoked ham hock and a gorgeous assortment of vegetables, most of which found their way into the pot. This batch used a jar of my homemade pasta sauce, 2 tins of tomatoes, about half a cup of homemade vegetable stock concentrate, the ham hock, 3 leeks, 1 onion, 4 garlic cloves,  1 kohl rabi, 1 large turnip, 1 zucchini, 6 small carrots, 1/2 bunch celery and a cup of dried soup mix (lentils, split peas, cannelini beans). Ideally it would have more beans but I didn't think to set any soaking last night. After simmering for most of the day, I threw in some small pasta while I cut the hock into tiny pieces and discarded the bones. Dinner saw second helpings all around with 6 more family meal size portions making their way into the freezer. Just enough to get us through the remaining cold weather.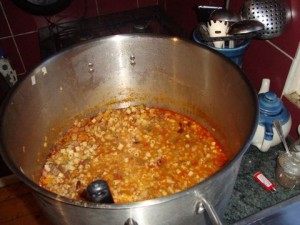 The cost of a free range ham hock ($20 today) is easily mitigated when it turns into 7 meals for a family of four with the addition of a few vegetables. Quite budget friendly after all. Good for the conscience too.
For dessert I decided to whip this little treasure into use.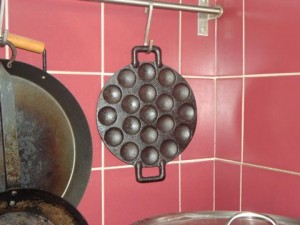 Curious? Or is it something you are familiar with? I have no idea how I acquired this. I wouldn't have bought it, I'm not into kitchen things that serve one distinct purpose only. So presumably I was given it. If you are still wondering, it's a poffertjes pan. Those lovely puffy little Dutch pancakes that are often on sale at fairs and markets. The difference between a poffertje and a normal pancake is that the poffertje is yeasted. The batter takes no time in the thermomix, or by hand. It's best to prepare it before dinner though as the yeast needs an hour to do its thing.  As I rarely have buckwheat in the house, here is my recipe. I mill my spelt flour form grain in the thermomix.  In these proportions, I think any whole wheat flour would give a good texture. If you don't have a poffertje pan, they can be made just as well in a standard frypan.
Poffertjes
30g spelt flour
100g plain flour
2 eggs
1 teaspoon muscovado
1/2 teapoon salt
250ml milk
1 teaspoon dried yeast
Place all ingredients in thermomix and blend at 50 degrees for 2 minutes on speed 4 (this will give warmth to activate the yeast)
Heat pan and butter. When butter is sizzling, drop batter into pan. As the top bubbles, flip over with 2 forks. Work quickly as the second side will be ready by the time you work around the pan.
Serve with any old pancake style topping you like, I'm no traditionalist.
(we had ours with freshly squeezed grapefruit juice and powdered muscovado tonight)