Sometimes, the simplest of meals receives the highest accolades. Tonight was one of those nights.
Some simple little prawn and potato patties made from $3 of prawns and 3 potatoes with a simple lemon chive sauce and a mound of steamed vegetables. The family feed for just under $6 and the plates licked clean. There should have been two patties left over but they were gobbled by First Born and the Breadwinner.
Dessert was similarly budget minded and similarly ell received. In a fit of channelling Laura Ingalls, I sliced up half an unripe pumpkin from our garden, sprinkled with muscovado and wrapped in filo, strudel style. The result could easily be mistaken for apple pie. Which I served with some cream whipped with a little cinnamon and muscovado. The cost of this was negligible as the pumpkin grew too late to ripen and would have been wasted otherwise and the filo was the few sheets left over from previous meals that needed to be used quickly. The butter, muscovado, cream and cinnamon were all lurking in the house already. I would have a photo of the finished product but it got eaten far too quickly for such niceties.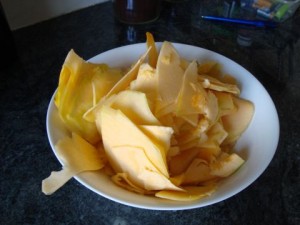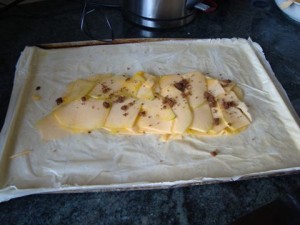 Potato and prawn patties with lemon chive sauce and steamed vegetables.
250g shelled prawns
3 large potatoes, peeled, cooked and mashed with butter and milk
1 tablespoon grated horseradish
flour for dusting
butter and oil for pan frying
for sauce
1 cup white wine
1 cup lemon juice
1 bunch chives, finely sliced
1 teaspoon cornflour or tapioca starch
Roughly chop prawns by hand or for 3 seconds on speed 5 in the thermomix.
Combine prawns and potato, mix thoroughly.
Form handfuls into patties and coat with flour.
Heat oil and butter in a frypan. Cook patties for about 5 minutes over a medium heat on each side.
Meanwhile, place sauce ingredients (except cornflour) in thermomix bowl (or saucepan) and vegetables in varoma. Cook for 6 minutes, varoma temperature on reverse speed 1.
Serve patties and vegetables with sauce drizzled over top.