I'm not entirely sure that calling this a salad is the right thing to do. I will though, for want of a better idea. Salad being a concept that has been on my mind today. My original plan was to have grlic calamari and prawns with a green salad. Then I discovered shortly before dinner time that I was bereft of green salad ingredients. So I was forced to improvise with what I had. This was born of a memory of a capsicum dish my mother-in-law made many years ago for my brother-in-law's engagement party.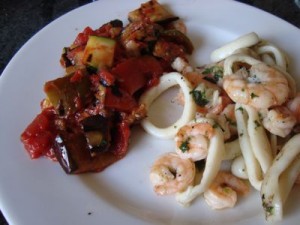 Capsicum, Eggplant and Zucchini Salad
1 eggplant, sliced lengthways
1 zucchini, sliced lengthways
1 red capsicum, cored
1 green capsicum, cored
olive oil
3 cloves garlic
6 anchovies
1 tin tomatoes with sliced olives
Preheat oven to 180 degrees
Chargrill vegetables until browned and remove skins from capsicum. Cut vegetables into bite sized chunks.
Place vegetables in baking dish and sprinle with a little more olive oil. Crush and peel garlic and scatter over top along with anchovies. To with tomatoes
Bake until liquid has reduced into a thick sauce (about 45 minutes).
Can be served hot or cold but best at room temperature.