So often at chez KP, dinner is inpisred by the one or two ingredients that need to be used most urgently. Tonight, it was a slab of thick cut ump steak and 450g roma tomatoes that were getting a bit squashy. It was a cool day so oven baked goodness was appealing. The result was good. Not as good as fully fledged moussaka but for a quick substitute it was pretty jolly tasty.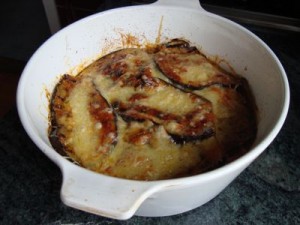 Quick and easy pseudo moussaka
1 onion
2 – 3 cloves garlic, peeled
10ml olive oil
500g piece rump steam, roughly chopped
450g roma tomatoes (or 1 440g can)
2 tablespoons fresh oregano leaves
1 eggplant, sliced lengthways
extra olive oil
bechamel sauce (as per TM recipe or your standard stovetop recipe with a sprinkle cinnamon)
grated cheese to top
Preheat oven to 180 degrees
Chop onion and garlic for 7 seconds on speed 6. Scrape down sides. Add oil, saute at 100 degrees for 2 minutes on speed 1.
Add meat and chop for 10 seconds on speed 5. Saute for 3 minutes at 100 degrees.
Add tomatoes and oregano and chop for 5 seconds on speed 4.
Meanwhile, chargrill eggplant slices with extra olive oil.
Place mixture in greased casserole dish and top with bechamel. Cover with chargrilled eggplant and top with grated cheese
Bake for 20 – 30 minutes or until golden on top.