Melbourne is a crazy town. Early spring was hot and dry. Early summer, cold and wet. Much as I prefer the heat, it's much cheerier to embrace what you've got rather than pine for what you lack. So I whipped up a comforting, super cheap, super easy slow cooker beans and rice dinner. Hearty and satisfying. Best of all, there was enough leftover to have a entire extra meal in the freezer.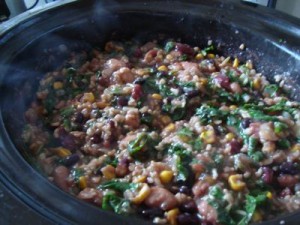 Rice, beans and more
I soaked the beans and rice overnight with water and a dollop of yoghurt. Beans in one bowl, rice in another
1 cup brown rice
1/2 cup kidney beans
1/2 cup black beans
1/2 cup borlotti beans
1 cup corn kernels
1 can tomatoes
1 tablespoon cumin
2 large sprigs oregano
1 medium bunch silverbeet,  shredded
grated cheese to serve
In the morning, drain beans and rice and place in slow cooker. Add 3 cups water, corn, tomato, cumin and oregano. Cook on low for 8 hours.
Just before srving, stir in silverbeet.
Serve topped with grated cheese.