The Bread Winner is one clever due. Now with 100% more images!
I actually wrote this post yesterday. I couldn't post it though because upgrading wordpress almost killed my entire blog. The Bread Winner has managed to get the blog back and I exist as a user once more, which is nice. Now the only problem is that the media upload page doesn't work. I give up. I'm just posting it as is for now. I'll try and edit with pictures later.

By the time I left work today the rain had cleared and the sun was peeping through the remaining clouds. I threw dinner together as quickly as I could so as to maximise my time in the garden. I've been itching to get out there for days. Kohlrabi, candy striped beets, borlotti beans, red kidney beans, cannelini beans and Italian green sprouting broccoli seeds made their way into the deliciously moist soil. Bolted silver beet was pulled and cut into green manure, rhubarb was moved into the new raised bed, tomatoes were staked, weeds were pulled and a new trellis was made for the beans. A most satisfying hour or so.  Hopefully I will have time for more after work tomorrow.
Dinner was a celebration of market fresh vegetables. After the last week of store bought muck, it was so nice to face a fridge full of freshly harvested, local produce. The puff pastry was made fresh this afternoon and there was enough leftover to make 2 small tarts of zucchini, tomato and cheese. Just the right size for sending to crèche and kinder with the Ankle Biters for lunch tomorrow.  I cut the pastry for the dinner tart a little too small which hampered only the presentation of the finished dish.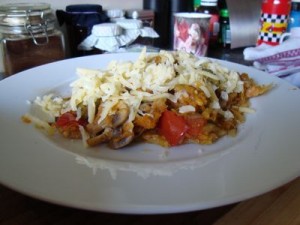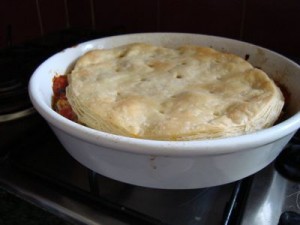 Vegetable Tart
1 batch puff pastry
2 tablespoons olive oil
4 golden shallots, thinly sliced
1 medium zucchini, thinly sliced
8 mushrooms thinly sliced
1/2 capsicum, julienned
1 tomato, diced
1 carrot, grated
1 – 2 cups grated mozzarella
Heat oil in large frypan. Add shallots ad mushrooms and sauté for 2 minutes. Add zucchini and sauté for 2 minutes more. Add remaining vegetables and sauté until liquid is evaporated.
Preheat oven to 200 degrees
Place vegetables in pie dish
Roll out a circle of pastry, slightly larger than pie dish and place on top of vegetables. Prick in a couple of places to let steam escape.
Bake about 20minutes or until pastry is puffed and golden.
Turn out upside down on to serving plate and sprinkle cheese over top. Serve