Dinner tonight was eerily like dinner last night. But not. Last night was steamed vegetables on noodles with haloumi. Tonight was steamed vegetables on noodles with tahini dressing. Despite the ingredients being much the same, the flavour was vastly different. I love the versatility of the simplest vegetarian meals. In fact, had I any tamari, this one would have been vegan.
My plan had been to simply serve steamed vegetables with tahini dressing tonight. Then I dropped Son and Heir at kinder this morning and noticed that the kinder vegetable garden was overflowing with silverbeet ready to be harvested. So I offered to run a silverbeet cooking session with Ankle Biters en masse. The tricky part of that being to find a silverbeet recipe to tempt even the fussiest of 4 and 5 year olds and also accounted for an egg allergy.
Which led to this;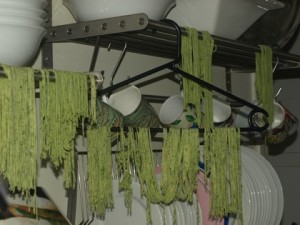 and this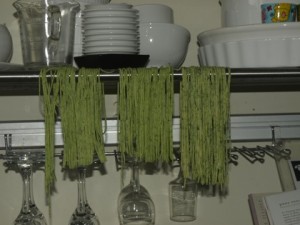 After all of which I decided that by the time the pasta was properly rolled, the Ankle Biters would likely be bored. So we will make cheese and silverbeet scones instead.
Of course all that lovely pasta couldn't go to waste, so it joined the vegetables and tahini dressing and there was much joy and harmony.
Eggless Silverbeet Pasta
an amalgamation of numerous pasta recipes found lurking around the web
1 cup semolina flour
1 cup plain flour
1 teaspoon salt
1/2 cup warm water
3 large silverbeet leaves, cut finely, blanched and drained
1 tablespoon olive oil
Combine all ingredients well by hand or in a food processor or thermomix. I did it by hand as I was testing how it would work at kinder.
Roll through pasta machine on increasingly smaller settings until well kneaded and at your preferred thickness
Tahini Dressing
adpated from a recipe sent to me by the lovely JJ
Juice three small lemons
1/2 cup rice bran oil
1/4 cup soy sauce
1/3 cup tahini
1 shallot, peeled and finely diced (leave whole if using thermomix)
2 cloves garlic, minced (leave whole if using thermomix)
1 1/2 tablespoons maple syrup
1/3 cup water
Place in thermomix, food processor or blender and blend until smooth (10 seconds on speed 7)