I'm fairly sure mine is different every time I make it. It's the most wonderful meal in a bowl. The dressing for tonight's version was inspired by Jane Lawson's Tossed'. The love affair continues.
As the Bread Winner waltzed out the door tonight he threw a final comment at me, "W's coming over tonight". The man has lived with me for more than 12 years now. How long will it be before he notices I'm a feeder? "Did you ask her to dinner?". Of course he didn't, but he managed to rectify that during the course of the day.
I had planned a Thai beef salad for dinner with left over roast beef from Sunday night. There was plenty of beef for one more so I just whipped up some pane toscane rolls, added a berry meringue dessert and cleaned my crafting frenzy from the dining table. Lovely. Instant mid-week entertaining.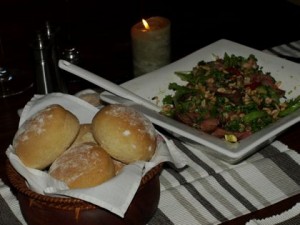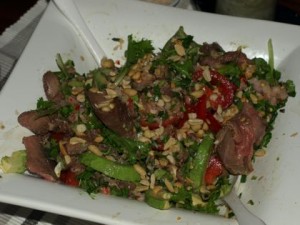 Tonight's Version of Thai Beef Salad.
Use leftover roast beef or either pan fry or roast until done to your liking.
Marinade
1 clove garlic
juice 1/2 lemon
2 tablespoon fish sauce
1 tablespoon rapadura
2 tablespoon soy sauce
1 tablespoon sweet chilli sauce
2 tablespoon sesame oil
Salad
1 cucumber, cut into strips
1 avocado, sliced
3 tomatoes, cut into wedges
lettuce leaves
Dressing
1 red chilli, finely sliced
4 tablespoons fish sauce
4 red shallots, finely sliced
2 spring onions, sliced
4 tablespoons mint leaves, finely shredded
4 tablespoons coriander, finely sliced
1 garlic cloves, minced
juice 1 lemon
2 teaspoons rapadura
To serve:
crushed peanuts
To make marinade:
In thermomix blend for 5 seconds on speed 7. Otherwise, mince garlic and whisk everything together. Cover meat with marinate and refrigerate for at least one hour.
To make salad:
Mix all salad ingredients and meat together in a large bowl.
To make dressing:
Combine all ingredients immediately before serving. Top salad with crushed peanuts.