I used almost the same ingredients for both lunch and dinner today. Is that wrong? Bad luck if it is, its the end of the week in terms of food shopping and choices are limited. Both meals were good and it was the Ankle Biters turn to cook dinner so I'm happy.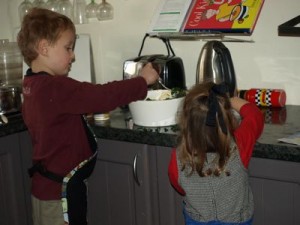 We had our alternate Thursday guests for lunch and I didn't have enough bread. I used my finger and ensuing time constraints to talk myself out of baking another loaf and bought a day old loaf of Phillippa's green olive toscano. Oh my. That bread is superb even when it's a day old. I must plan ahead and make some fancier breads. I'm stuck in a rut of banging out my standard 2 hour loaf. There's nothing wrong with it, it's great bread but why not go a little crazy sometimes?
Super Tuna Melt
Phillipa's green olive toscano
kale, chopped and blanched
tomato, sliced
asiago pressato, sliced
macadamia nut oi mayonnaise
green olives, sliced
Pile everything on, sandwich and toast in sandwich press.
Mac and Cheese + more
250g macaroni
1 punnet cherry tomatoes, quartered
300g tuna in springwater
1 cup grated tasty cheese
1/2 cup cream
1 bunch kale, chopped and blanched
Preheat oven to 180 degrees.
Cook macaroni until al dente
Mix everything together in an oven proof dish
Bake until everything is heated through (about 20 minutes)