I tend to blitz through most days at a fairly hectic pace. Being forced to slow down by two unwell Ankle Biters and a badly cut finger is pure torture. It's taken me all day to perform tasks that would normally take half that time.
Just the normal day to day tasks of a mum. Post-vomit laundry, breaking up fights, baking bread, breaking up fights, digging up potatoes and composting the potato bed, breaking up fights, paying bills, breaking up fights, washing dishes, breaking up fights, changing bed linen, breaking up fights, chopping wood, breaking up fights, weeding the garden, breaking up fights, cooking dinner … you get the picture, right?
I did get though it all though.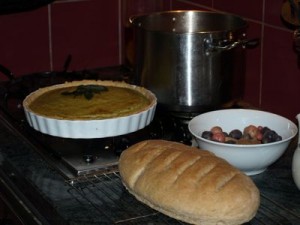 Quiche for dinner, stock cooling in preparation for being reduced to demi-glace, tiny little potatoes to steam for a salad, bread.
I had a vision of a quiche, sweet and light and filled with parsnips roasted with honey. Then I discovered that I only had three parsnips left. So I morphed my vision into a parsnip, zucchini and Brussel sprout quiche. Not what I was craving (which I will still work on next time I have enough parsnips) but the result was lightly textured with a sweet and delicate flavour. Worth making again.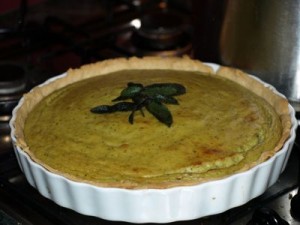 Parsnip, Zucchini and Brussel Sprout Quiche
shortcrust pastry
300g parsnips
160g zucchini
300g brussel sprouts, ends and coarse outer leaves removed
1/2 cup cream
4 eggs
2 tablespoons chopped sage
1 tablespoons honey
1 teaspoon ground nutmeg
cracked pepper
extra sage leaves, fried to garnish
Line quiche dish with pastry and refrigerate until required.
Preheat oven to 200 degrees
Peel and roughly chop parsnips. Boil until tender (about 10 minutes) add roughly chopped zucchini and brussel sprouts for last 3 – 5 minutes.
Place vegies in thermomix or food processor, add
cream and blend until smooth (20 seconds, speed 6 in thermomix).
Stir through eggs, sage, honey, nutmeg and pepper (10 seconds, speed 4 in thermomix)
Spoon mixture into pastry shell and bake for 35 mins or until pastry is golden and filling
is set.
Garnish with fried sage leaves and stand for 5 minutes before serving. Serve
warm or cool with a green salad on the side.