Son and Heir saw a big paella cooking on the box the other day and declared it his favourite. Upon further quizzing, the only ingredient he correctly identified was prawns, that was enough to make it a favourite. So I promised to cook it for him. Which of course I was happy to do as paella is an old favourite of mine and the Bread Winner's. One I haven't made in a very long time for some reason.
Paella
serves 6
3 tablespoons olive oil
3 – 4 cloves garlic, finely chopped
2 medium onions, finely chopped
1 chorizo, meat squeezed out in small clumps
2 large tomatoes, diced
1 green capsicum, cut into strips
1 red capsicum, cut into strips
2 1/2 cups long grain rice
1 teaspoon saffron threads, crushed
1.25 litres boiling water
1 cup peas (fresh or frozen)
500g fresh marinara mix or seafood of choice
lemon wedges to serve
Heat olive oil in a large frying pan. Add onion, garlic and chunks of chorizo meat. Saute for 2 minutes. Add tomato and capsicum. Continue to saute until liquid has evaporated and mixture has thickened.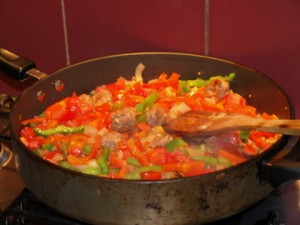 Preheat oven to 200 degrees.
In a paella pan (or oven proof fry pan), place rice, tomato mixture, saffron and seasoning. Stir well to combine. Add boiling water, stir well and bring to boil over high heat on stove top. When boiling, remove from heat.
Arrange seafood and peas over the paella and place the pan on the floor of the oven. Cook for about 30 minutes or until the rice is cooked and the liquid evaporated.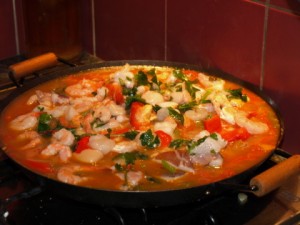 Remove from oven, cover with a tea towel and allow to stand for 5 – 10 minutes. Garnish with lemon wedges, place in the middle of the table and serve.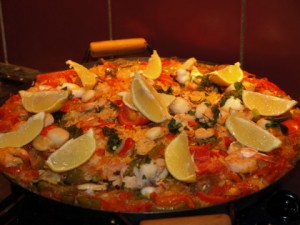 Que approveche!
Approx. cost per serving $2.60 (assuming 6 serves)
By the way … do you find the format of this recipe easier to follow than usual? Or not so much?