Today we had a play day at Son and Heir's kinder for the Ankle Biters and Dad's (or other significant male). It was a lovely morning for all involved. The highlight of the morning seemed to be morning tea time. To keep things simple, everyone who came brought a plate to share. At Son and Heir's request, we contributed fairy mushrooms and snails. Although one of the Mum's who came to help thought the snails looked more like penises. Might make them again if I ever have to take a plate to a hen's night.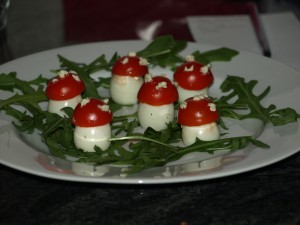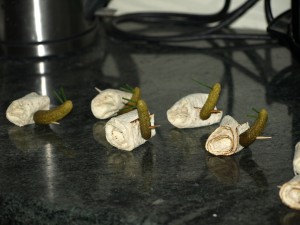 After all that excitement, I didn't feel like a major production for dinner. I was prepared for that though. We had a lamb roast Saturday night and I cooked lot's of extra everything.

Leftover Lamb Roast Fritters
leftover roast veg (I used potato, pumpkin, carrot, sweet potato, cauliflower au gratin, broccoli and parsnip
1 egg
plain flour
leftover roast lamb
oil and butter for frying
leftover gravy to serve
Place vegetables in thermomix or food processor. Blend until close to pureed. Add egg and enough plain flour that the mixture becomes stiff to stir. Add the flour bit by bit. Thoroughly combine.
Cut meat into little bite sized pieces. Stir into vegetable mixture.
Heat butter and oil in frying pan and spoon in tablespoons of the mixture, flattening slightly. Cook until golden brown on both sides. Repeat until you've used all the mixture. Reheat gravy to serve.
Approx. cost per serving $1.40