Last night's cooking class has inspired me to force that old mojo back whether it likes it or not. I went back to work today which kind of interfered with that resolution as it really took the stuffing out of me. I decided though not to let it beat me, just to start of with baby steps. So I went with an old favourite fritatta recipe tonight but developed a good thermomix conversion for it. I'll give you the conventional recipe and the thermomix version.
Silverbeet, sweet potato and mushroom fritatta
500g purple sweet potato, peeled and cut into 2cm cubes
20 leaves silverbeet, roughly chopped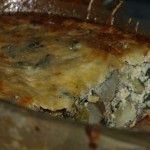 2 tablespoons oil
250g mushrooms, sliced
1 bunch chives, finely chopped
2 shallots, peeled
8 eggs
3/4 cup plain yoghurt
100g blue cheese
1/3 cup grated parmesan
For conventional cooks:
Preheat oven to 180 degrees.
Steam or boil sweet potato on stove top until tender.
Blanch silverbeet in boiing water until wilted. Drain and shred.
Heat frypan and add oil. FInely chop shallots and add to pan with mushrooms and chives. Saute for 2 minutes and then add sweet potato. Saute for another 5 minutes. Stir in silverbeet.
Beat eggs, yoghurt and crumbled blue cheese together. Combine with vegetable mixture and pour into a greased baking dish.
Sprinkle parmesan over the top.
Bake for 30 minutes or until top is golden and set.
For thermomix cooks:
Shred silver beet for 2 seconds on speed 5, using spatula to make sure it all gets a turn. Remove from bowl.
Add 500g water to thermomix bowl. Place sweet potato in steamer basket and cook for 15 minutes at 100 degrees on speed 2. Add silverbeet for the last 2 minutes.
Preheat oven to 180 degrees.
Remove steamer basket and water from thermomix.
Add shallots to thermomix and chop for 10 seconds on speed 7. Add oil, mushrooms and chives. SAutge for 2 minutes at 100 degrees on reverse speed 1. Place butterfly in bowl and add sweet potato. SAute for another 5 minutes at 100 degrees on reverse speed 1. Remove and place in greased baking dish.
Place eggs, yoghurt, blue cheese and seasoning in thermomix and bland for 15 seconds on speed 4. Pour over vegetables and gently stir to combine.
Top with grated parmesan and bake for 30 minutes or until golden on top and set.