Did someone say minestrone? Actually Son and Heir has been begging me to make "pasta soup" for a couple of weeks now. This week is the week. I have no intention of us eating it until the end of the week but I like to make it when the vegetables are market fresh. Not only does that mean I'm cooking it when the nutrient values of the ingredients are at their highest, the flavour also develops over time. So by Friday, when I suspect we'll be eating this, it's going ot be scrumptious.
On a budgetary note, when I was ladling this out into storage containers, I calculated that there are roughly 26 serves at a total cost of approximately $9.00. That's 35c a serve people, add a slice of toast or two and you've got a hearty dinner for well under a $1.00 per serve. And that's just one reason why I feel OK about blowing the budget this week.
I probably shouldn't call this minestrone as it changes every time I make it, nothing authentic about it really. It's just good hearty soup with lots of vegetables, legumes and pasta. What could be wrong with that. Sometimes I'll add a ham hock if I can find a free range one but today's version is almost vegetarian (I used chicken stock). Call it what you will, or go by Son and Heir's "pasta soup" if it pleases you to do so.
The Soup
3 cups borlotti beans, soaked overnight and cooked until just tender
4 baby parsnips, peeled and chopped into small pieces
2 carrots, peeled and chopped into small pieces
2 small turnips, peeled and chopped into small pieces
3 zucchini, peeled and chopped into small pieces
5 – 6 garlic cloves, peeled and chopped into small pieces
2 onions, peeled and chopped into small pieces
300g green beans, chopped into small pieces
1 1/2 cups peas
1 baby leek, chopped into small pieces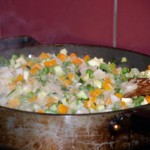 800g tinned tomatoes
1 1/2 cups soup mix
1 1/2 litres stock (vegetable or chicken)
500g small shell or elbow pasta
1/2 litre water
1/2 cup olive oil
large dob butter
Heat very large fry pan and add oil and butter. When heated, toss in all vegetables and garlic except legumes. Toss around pan until everything is well coated in oil and butter but not coloured. Transfer to large stock pot and add in all other ingredients except pasta. Simmer gently for an hour to an hour and a half. Turn heat off and stir through pasta. Let sit for 10 – 15 minutes.
Transfer to storage containers until ready to eat.
By the time you are ready to eat, it will be very thick. Water down a little to heat up. Top with a little grated parmesan to serve.