Seafood and yoghurt cheese ravioli with mushroom sauce.
250g good quality marinara mix
yoghurt cheese
300g flour
3 eggs
10ml olive oil
For the Sauce:
8 or so mushrooms
2 cloves garlic
2 anchovies
dob of butter
dash cream
grated parmesan
Combine flour, eggs and oil and knead well. In the thermomix, combine for 5 seconds on 7 and then knead for 2 minutes. Remove and run through pasta machine several times, decreasing width of rollers every time, until you have a smooth, thin, sheet of pasta. Well several actually, it sure does stretch a long way. Lay them out on a floured bench. Don't forget the flour or it will stick.
Make little mounds of about a tablespoon of marinara on the pasta at intervals. Add a teaspoon of yoghurt cheese. Lay another sheet on top. Press around the edges of each mound to seal and cut in between. Lay on a lightly floured surface to dry.
To cook the ravioli, place in a pot of boiling water for about five minutes.
To make sauce:
Melt butter in pan. Add everything else except parmesan. Saute for about 5 minutes. Serve over pasta and sprinkle with parmesan.
After the first pass through the pasta machine
After about 7 passes through the pasta machine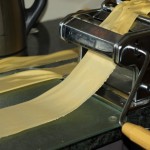 Pasta with filling piled on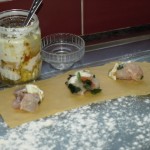 Filled pasta waiting to be cut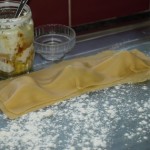 Dinner!