Once again adapted from Adam Liaw's Two Asian Kitchens with Nasi Lemak in mind.
Sambal Assam
makes about 1 1/2 cups
5 shallots, peeled
3 garlic cloves, peeled
5 red chillies
50ml rice bran oil
1 teaspoon tamarind concentrate
30g coconut or palm sugar
1/2 teaspoon salt
1/2 cup water
1/2 teaspoon belacan
1. Place shallots, garlic and chillies in thermomix and chop for 5 – 10 seconds on speed 6. Stop halfway and scrape down sides.
2. Add oil, cook at 100 degrees for 10 minutes on speed 1.
3. Add tamarind, water, sugar, salt and belacan. Cook for 15 minutes at 100 degrees on soft speed.
4. Store in fridge in airtight container.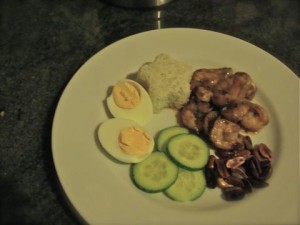 Nasi Lemak with cucumber, fried peanuts and ikin bilis, hard boiled egg and prawn sambal (made with sambal assam). Second helpings all around.