My freezer is 25 years old and it still has its original seals. Which need replacing. Badly. So my current hobby is cramming as much of it's contents into the freezer above the fridge as possible in order to empty the big freezer and have the seals replaced. Yesterday I puled out a free range pork fillet which brought to mind a pork tenderloin recipe I saw recently.
A fillet really isn't fat enough to stuff so instead, I drizzled some olive oil in baking dish and spread some blanched silverbeet (chard) mixed with chopped tomatoes, both fresh and dried. I scattered about 6 small, peeled garlic cloves amongst all that. The pork fillet sat on top and had another drizzle of olive oil and plenty of seasoning.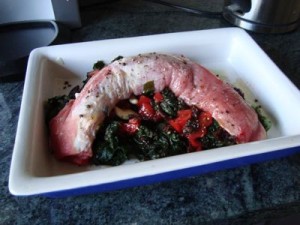 Whilst the meat and side dish of scalloped potatoes cooked, I made a simple mushroom sauce using butter, sliced mushrooms and some glace de viand with tapioca starch to thicken slightly. After about half an hour at 180 degrees, the pork was perfectly cooked. Juicy and moist.