Recently, First Born staged a large and rather noisy protest that he never gets to choose what we have for dinner and he never gets to make dinner. My boy loves a superlative. So we struck a deal that Wednesday night would be his night for cooking.
We get home from swimming Tuesday nights and while I dish up, he peruses his favourite cookbook and decides what he wants to cook the following night. With minor negotiations depending on the ingredients I have to hand. This week, fried rice was his meal of choice.
Now that he has reached the grand old age of five and a half, we decided that he could have his first experience of using an actual sharp knife and cooking at the stove top. Exciting times at chez KP.
Thanks to the thermomix and his burgeoning literacy, cooking the rice was child's play. Literally. I sliced the kernels off the corn. He measured out the peas, cut the capsicum, beat the egg. He also added the left over scraps of shredded beef we had put aside from the previous night. I turned the hotplate on and added the oil. I also added the rice to avoid any oil splatters on him. From there, First Born added his ingredients and stirred while I held the handle of the wok steady to avoid any tipping.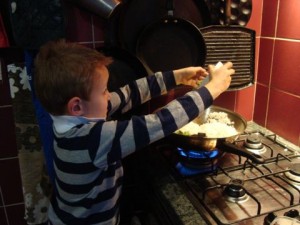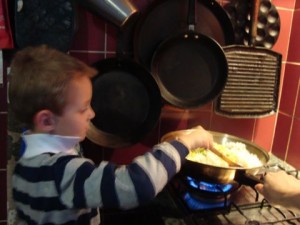 The dinner was delicious and First Born nearly imploded with pride. He is taking the leftovers to school for lunch tomorrow, largely so he can tell everyone he cooked it I think.