Well. Melbourne is a land of extremes lately. From the seemingly unending drought, the searing heat and the dreadful, heartbreaking burning, today was both chilly and wet. Yes, wet. Joyful rain, real rain.
A wonderful excuse to pull out the slow cooker again as panacea to my current painfully hectic schedule. I headed over to A Year in Crockpotting for inspiration and adapted her barbecue beef and bean sandwich recipe. The result was enjoyed by all. Best of all, there is a good sized portion in the freezer for another night.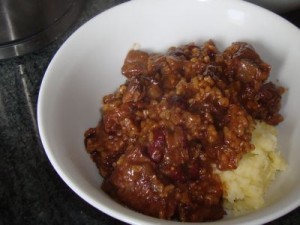 Barbecue beef, beans and rice
750g diced gravy beef
1 cup kidney beans
1 cup brown rice
1 onion, chopped
2 cloves garlic, chopped
barbecue sauce (one batch, see recipe below)
2 cups water
mashed potato to serve
The night before, place beans and rice in slow cooker and cover with water. Soak overnight and drain in the morning.
Add all other ingredients (except mash!) and cook on low for 8 – 12 hours.
Serve on mash and enjoy! (Did I mention I love the simplicity of my slow cooker?)
Thing is, barbecue sauce is not something I have ever (to my recollection) so I googled and came up with a recipe to adapt. This took me 7 minutes tops in the thermomix and tasted great.
Barbecue Sauce
100ml white vinegar
100ml tomato sauce
100ml treacle
juice 1 orange
2 tablespoons Dijon mustard
1 tablespoon worcestershire sauce
1 teaspoon dried chili flakes
A good few shakes of tabasco
salt and pepper to taste
Bung everything in the thermomix and cook at 90 degrees for 5 minutes on speed 3.