En route to Son and Heir's school, we ride past a fence with an overhanging fig tree. Surely we all know by now how much I love figs. It is possible, that enough time has been factored into our morning ride to raid the half of the tree overhanging public space.
As well as gracing our morning Bircher muesli, we have had a somewhat scrumptious…and somewhat alcoholic…fig tart.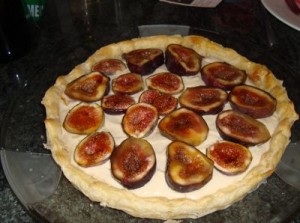 Fig Tart
adapted from Lina Collister's 'Baking Bible'
Serves 8
In a loose base flan tin, 25cm diameter (I used a quiche dish and it worked fine)
300g puff pastry (1 batch standard thermomix puff pastry left me with some leftover for the freezer)
Fig topping
12 ripe figs, rinsed, trimmed and halved
3 tablespoons orange liqueur (I used Cointreau)
4 tablespoons apricot jelly or sieved jam (I used home made apricot and nectarine)
Pastry cream filling
300ml milk
4 large egg yolks
55g golden caster sugar (milled from muscovado in thermomix for 5 – 10 seconds on speed 8 )
2 tablespoons plain flour
140ml cream
2 tablespoons orange liqueur
muscovado for sprinkling
Roll out pastry and line flan. Chill. Prick with fork, line and blind bake until golden. Cool.
Sprinkle figs with liqueur and leave to macerate for at least 2 hours or overnight.
To make pastry cream, place egg yolks and sugar in thermomix and combine for 5 seconds on speed 3.
Add flour and mix for another 5 seconds on speed 4.
Add milk. Cook at 90 degrees for 5 minutes on speed 2. Remove from thermomix and sprinkle with a little muscovado to prevent skin forming and let cool.
Whip cream and orange liqueur in thermomix with butterfly.
When ready to serve, fold whipped cream and liqueur into pastry cream and spoon into pastry case. Drain figs and reserve liqueur. Arrange fruit on op of the pastry cream filling. Heat the apricot jelly until smooth and hot, stir in liqueur and quickly brush over figs. Serve immediately.