There is a blood red sun setting over Melbourne this evening. The day has been smoky and the light eerie. Running this evening made me feel like an emphysema sufferer, the smoke haze is thick enough to be worrisome for those with respiratory diseases.
On a more cheerful note, we had another great dish for using up leftovers. Leftover bread in this case. Panzanella, also known as Tuscan Bread Salad. I used the recipe from Artisan Bread in Five Minutes a Day as my basis. Only I used a lot more anchovies and capers than specified and gave it a good hour after dressing, with an occasional toss to allow the flavours to fully develop. Strangely, neither Son and Heir or the Bread Winner were fans of the bread. In this case, European Peasant bread from the same book, a wheat and rye blend. Lil Miss and I however thoroughly enjoyed every bite. Even though I beefed ours up with cannellini beans, I also served Cornish sausages on the side. The Bread Winner comes home hungry on a Friday.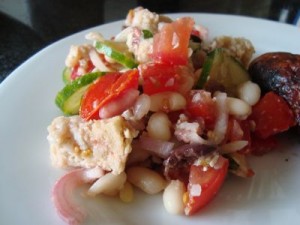 Panzanella
4 -5  thick slices day old bread, cubed. Use something crusty.
2 large or 3 medium very ripe tomatoes, diced
1 small red onion, diced finely
1 medium cucumber, sliced
1 tablespoon capers
1/4 cup pitted kalamata olives, halved
6 anchovy fillets, roughly chopped
2 tablespoons shaved parmesan
3/4 cup cooked, drained cannellini beans
½ cup fresh basil leaves, torn into small pieces
Dressing
2 cloves garlic, diced finely
½ cup good quality olive oil
3 tbl red wine vinegar
Freshly ground black pepper
Salt flakes
Combine all salad ingredients
Combine all dressing ingredients
Dress and allow to stand for at least an hour so that the flavours develop.