I asked for some dog bones at the farmers market the other day. I was given a couple of kilo of beef ribs for $3. For the first time ever, Little Creek Beef disappointed me. There was no way I could feed those ribs to my dog. They were far too good for the dog. I ended up picking up some bones down the street and kept the ribs for us.
The only trick was deciding what to do with them. Then I came across a crockpot recipe for John McCain's ribs at A Year in Crockpotting.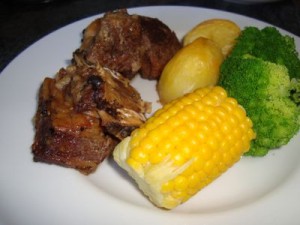 The verdict. He may not have been successful as a Presidential candidate but his ribs are a winner. Lightly tangy, delectably garlicky morsels of disitegrating meat. I am so glad I didn't give those ribs to the dog!