Since October, Lil Miss has had her heart set on a teddy bears 'nicnic' for her third birthday. What mother could deny such a humble request? Not this one anyway.
To avoid the whole saga of cleaning the house only to have it destroyed by hyped up preschoolers, we elected to picnic at a wonderful park not terribly far away, Wombat Bend Playspace. In fact, it's such a good playground that despite arriving before 9am, all the actual picnic tables had been taken by other party throwers. Well one rather grabby party thrower but nonetheless, I did count 6 other parties taking place over the course of the morning. Despite the lack of picnic table, I managed to snaffle the gorgeous mosaic amphitheatre area and the weather behaved beautifully with the sun only becoming too strong as we prepared to leave.
My favourite thing about parties for this age group is that they are so incredibly easy to please. They aren't really ready for structured party games, they just want to play and eat. So a good playground and lots of food presented in small bite sized pieces and you've nailed it.
Sustainable bunting and some unsustainable balloons marked our territory.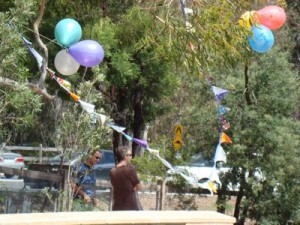 I favoured the mini patty pan this year and it worked very well to minimise wastage. Fiddly to fill but too small to discard after one bite. We had mini chocolate crackles and mini chocolate muffin 'flower pots'. I think Lil Miss ate her bodyweight in the muffins and I ate mine in chocolate crackles. I used standard recipes with organic fairtrade cocoa and substituting muscovado for sugar and organic coconut oil for copha.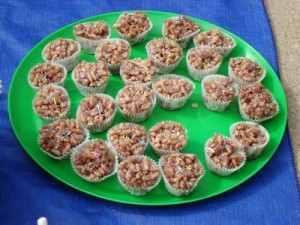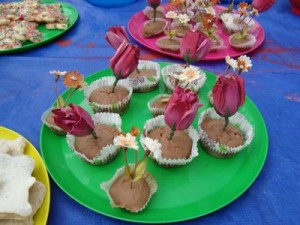 The teddy bear cookie cutters got a work out. We had (slightly melty) teddy bear shaped fairy bread and teddy bear shaped sandwiches – jam, vegemite and cream cheese and cucumber.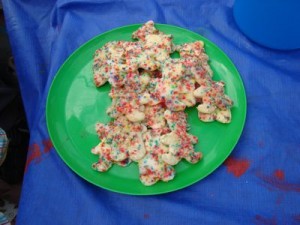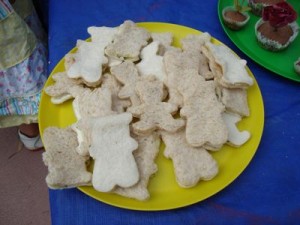 Chocolate dusted mini meringues were exceedingly popular. Confession time, I didn't make these for the party. They were store bought freezer leftovers from a dinner party a couple of months ago. Meringue freezes incredibly well.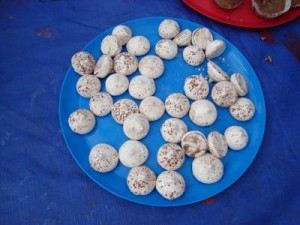 My mini theory was well proved by the pikelets. Despite their cute heart shapes, they were too big and were largely ignored.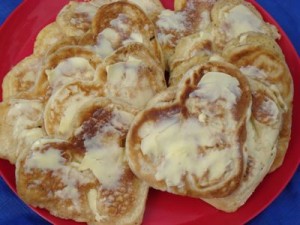 Mini muesli bites in the shape of butterflies, teddy bears and love hearts were more popular with the parents than the children. I used my muesli bar recipe without nuts and whizzed it until fine in the thermomix. I moulded the shapes in silicon ice trays.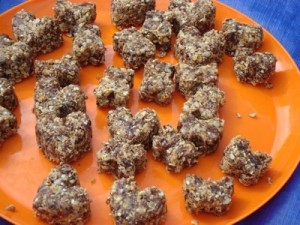 The ubiquitous bowls of popcorn were present as well as plates of grapes and watermelon. All of which always go down well. Drinks consisted of water, pineapple juice and mineral water for the children and a blend of ginger beer, lemonade and pineapple juice which was recently introduced to me by a very clever friend of mine. In an uncharacteristic display of food colouring, sugar and other food evils, I made these popular little critters, tiny teddies in jube swim rings with cocktail umbrellas swimming on a blue plate. Too cute to pass up I'm afraid. Not suprisingly, this plate was the first to empty.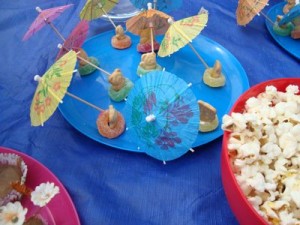 Finally, there was the teddy bear cake. Baked in a moulded tin borrowed from a friend. Once again we see that icing is simply not my area of expertise. It got eaten though so it tasted better than it looked.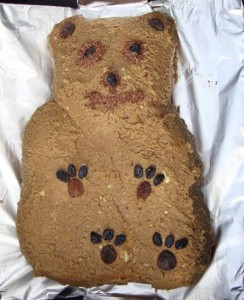 Lil Miss was both overjoyed and overwhelmed at being the centre of attention and clung to me with a beaming face as we sung happy birthday to her. Most heartwarming.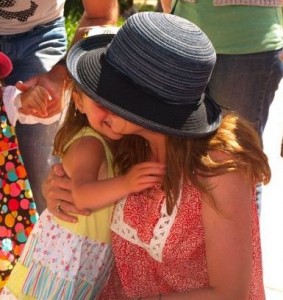 After the cake, we savaged a '3' shaped pinata and then it was time for the lolly bags. The universal symbol for "go home, party over". Only I don't believe in lolly bags. I figure kids eat enough junk at parties, why take more home? Thanks to an opening special of 50% at spotlight a few months back, I was well prepared. Lil Miss presented her guests with a calico bear emblazoned across the chest with their name and signed with her own on the bum. She did her very best to say "thank you for coming to my party" as she presented each one. And a gorgeous job she did as well. I see a gracious hostess in the making. Proud mumma indeed. I'll leave you instead with a glimpse of a very happy birthday girl.