'Twas hot and sunny in my little corner of the world today. Much as I love the hot weather, when combined with a boot load of lovely thick wood donated by my brother and my dad, it makes for a hot and somewhat grumpy Dani.
Only grumpy until the job is completed. Then we have a hot and stinky satisfied Dani. Before I started work today, this little patch was a bare rectangle of nothingness. Now it is a raised bed, filled with compost, manure and sugar cane mulch and planted with wombok, broccoli, brussel sprouts and mini turnips.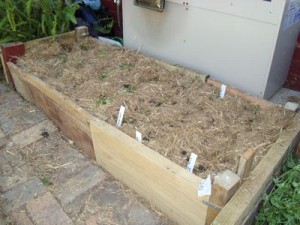 The next task was to erect some shade cloth to plant out the rest of the broccoli, cabbage and turnip seedlings without them getting burnt to a crisp.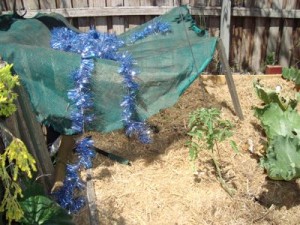 By the time that was done, the sun had moved enough to allow me to lug the buckets of recycled shower water out for watering and start on dinner. In order to achieve the mountains of bread necessary for teddy bear sandwiches and fairy bread and such, I found myself at the nearest local bakery which eschews the addition of preservative 282. Oh my sainted aunt. I had no idea that bread, ordinary bread, non-fancy, plain wheat, white and/or whole meal block loaves were so flipping expensive. I could bake 12 loaves of vastly superior bread for the priec I paid for 4 loaves. The horror!
Just to add to my pain, this is what happens when sandwiches and fairy bread are cut into teddy bear shapes.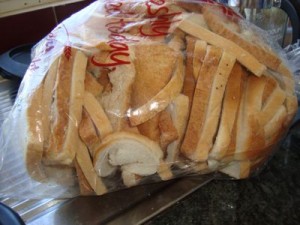 Not a chance on bob's green earth that I will wasting that! I managed to get through about 1/3 of it tonight in a savoury bread pud. I choppe up a few good handfuls of the bread and combined it with the remainder of the Christmas ham (glad to see the back of that), tomato, grated zucchini, grated cheese, sindried tomatoes and olives. Six eggs and a cup of milk poured over the top and 1 /2 an hour or so in the oven. Delicious and frugal. Now to get through the rest of the bread scraps…