The past few days have been perfect Melbourne summer days. Bright sunny days, warm nights. My inner gardener is badly lamenting Melbourne weather at the same time as the rest of me revels in it. My water tank has reached critical levels again. I'll be howling at the moon and rain dancing tonight. The vegetable patch is such a glorious sight to my eyes, the thought of actually running out of water is utterly depressing.
Enough of that, back to warm summer evenings. Burgers and salad are such a summer staple but I'm just not a fan of the standard burger. So tonight, I made seafood burgers with some marinara mix I found lurking in the freezer. I made some basic grainy burger buns and added chopped, fresh corinader during the final knead. I served the burgers in the bread with avocado and a mayonnaise with some lime juice stirred through. With a garden salad on the side.
Although I made these in the thermomix, a food processor would certainly suffice.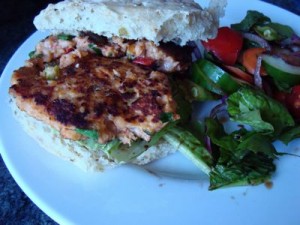 Seafood burgers
2 cloves garlic
1cm piece ginger
500g good quality marinara mix
1 egg
1 tablespoon sherry
2 tablespoons peanuts
2 tablespoons rice flour
12 cup bread crumbs
seasoning
2 spring onions, finely sliced
Chop the garlic and ginger on speed 7 for 5 seconds.
Add all other ingredients, except spring onions and chop for 10 seconds on speed 6
Add spring onion and blend for 5 seconds on speed 3
Heat a little oil in a frypan, spoon in and spread to 1 cm thick. Cook for 2 minutes on each side.