So another year passes, more quickly than those that precede it. If you are celebrating the departure of 2008 or welcoming 2009, enjoy and be safe! If you're not celebrating, also enjoy and be safe. It's a crazy time of year.
I'm ushering out the old with the assistance of the cook book challenge. This week's book is from the Family Circle cook book collection. It is called Brilliant Barbecues and it's not as dated as many of the same vintage.
Prawns with lemon and garlic
From Family Circle Brilliant Barbecues.
I served ours with some blanched Chinese broccoli and bok choy. An odd choice fo accompaniment but they needed to be used. It worked well enough. I also served with some Danish blue cheese bread which was perfect.
1 kg green prawns, shelled and deveined
14 cup olive oil
1 tablespoon lemon juice
2 cloves garlic, crushed
2 spring onions, finely chopped
seasoning
lemon quarters to serve.
Mix everything but prawns and lemon quarters in a glass or ceramic bowl.
Marinate prawns in marinade for 10 minutes. Cook on flat plate (or in frypan) over full heat until cooked (up to 5 minutes).
Serve with lemon quarters and crusty white bread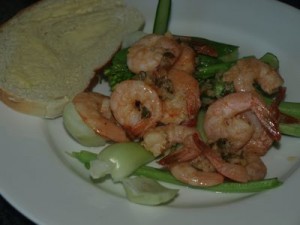 Our tipple of choice is Bellinis, made with yellow peaches as we have a tree full of them. Three large peaches, peeled and stoned with a splash of syrup left over from canning, blended in the thermomix and then mixed with a bottle of bubbles. Refreshing and festive.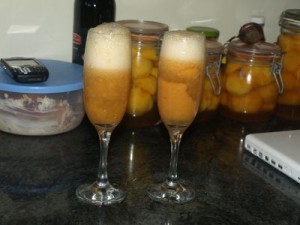 Clearly we're ready for a massive night as evidenced by the Bircher muesli and bottled peaches resting in the background.
Happy New Year!