Glorious rain kept me from my planned tasks this afternoon. Instead, I opted for fun with food. I stumbled upon this idea a few nights ago and it tickled my fancy.
I didn't follow the recipe, I just made a meatloaf mix of a little beef, a little lamb, breadcrumbs, an egg, onion, garlic, a diced zucchini, a few diced mushrooms and some worcestershire sauce. I most certainly did not use instant mashed potato. I went for a traditional mash with parmesan and then gave it a whizz in the thermomix for a creamy texture. These little beauties were served with steamed broccoli and corn on the cob.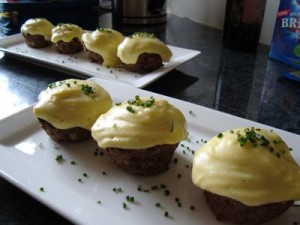 The Ankle Biters were tickled pink. The Bread Winner thinks I'm strange.