Today is a day of absolutely no originality at Chez KP. It has however, been a day of delicious food. Sunday is my sleep in day which leaves the Bread Winner on morning duty. So the less said about breakfast the better. Or in my case, I could simply say 'what breakfast?'.
By lunchtime, things have taken a turn for the better. I cracked open Secrets of the Beechworth Bakery and put together a tear and share loaf. Something that would be effective on most basic doughs. I topped ours with crispy bacon, diced and drained tomato, shredded silverbeet, blanched and drained and finely grated cheese.
Then, roll it up, roughly chop, oil lightly, dump in a bread tin (or similar in my case), reprove the dough and bake. After it baked, I sprinkled on a little more finely grated cheese and let it melt. The entire loaf vanished in record time. So good, especially straight from the oven. In fact I can only assume it is still good not straight from the oven. Ours didn't last long enough to find out. Please excuse the dairy dishes in the photo.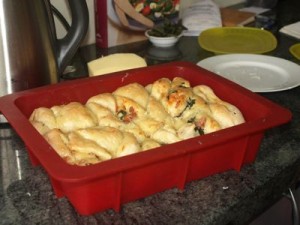 Dinner was just as good. I decided I wanted to make a broad bean risotto. I was too lazy to actually think about the mechanics of it so I let google come to the rescue. Nicely done google, nicely done. I made mine in the thermomix so it was a nice quick and lazy meal preparation, except preparing the broad beans of course.