Its been a while coming but here are the recipes from our recent dinner party.
chorizo in potatoes
I read about these in a Gourmet Traveller whilst sitting in a cafe in Sydney recently. I didn't copy the recipe but it's pretty simple so I probably did the same thing as the original recipe specified.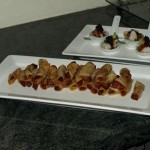 2 chorizo
1 large potato
rice bran or grapeseed oil
1. Cut chorizo into chunky matchsticks
2. Thinly sliced unpeeled potatoes (very thinly, they need to bend, use a mandolin if you don't think you can manage it with a knife)
3. Wrap each piece of chorizo in a slice of potato, secure with toothpick
4. Heat oil in wok or saucepan
5. Fry each piece until golden.
6. Drain on a cloth, remove toothpick and serve.
prawns in bloody mary
I garnished these with lumpfish caviar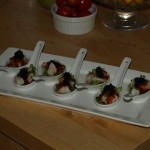 garlic soup
I made a very small portion of this. Roughly 1/4 of the recipe. The slow simmering of the garlic in oil lends this recipe perfectly to thermomix cookery. I made it in the thermomix thusly;

1. Cook oil and garlic for 25 minutes at 90 degrees on reverse speed 1
2. Add stock, thyme and stock
3. Cook for 20 minutes at 100 degrees on speed 2
4. Slowly turn to sped 9 over 30 seconds to puree
5. Strain and serve with grated parmesan
fried cheese stick salad with warm caper and olive dressing
this was adapted from a clipping I saved from a long lost Super Food Ideas
370g edam cut into logs
1/2 cup plain flour
rice bran or grapeseed oil for deep frying
Italian salad mix
dressing
3 tablespoons olive oil
2 tablespoons drained capers
3 tablespoons drained, sliced, stuffed green olives
3 tablespoons lemon juice
seasoning
1. At least an hour before serving, dust cheese with flour and place in freezer
2. When ready to serve, drop cheese in hot oil and fry until golden. Drain.
3. Dressing – pan fry capers for 1 minute and then quickly combine with all other dressing ingredients.
4. Arrange cheese on salad leaves, dress and serve.
mini baguettes
from World Breads by Paul Gayler

300g bread flour
200g plain flour
2 teaspoon fine salt
15g yeast
300ml warm water
1. To prepare starter, sift flours and salt together. In a separate bowl, mis yeast with water, stir to dissolve and leave 10 minutes.
2. Beat in half the flour to the yeast to make a thick batter. Cover with cling wrap and leave at room temperature for 4 hours. During this time the batter will collapse.
3. Add the rest of the flour, beating in with one hand. Turn onto floured board and knead for 8 – 10 minutes to form a moist dough. Place in a clean bowl, cover and leave to rest in a warm place for 1 hour.
4. Turn dough out on to floured board, knock back to expel air. Roll into baguettes. Snip with scissors at intervals to form mini baguettes with pointed ends. Make slashes across top of each baguette. Leave to prove for another hour.
5. Preheat oven to 230 degrees C, placing a baking dish filled with boiling water on the bottom of the oven.
6. Bake on top shelf for 25 – 30 minutes until golden and crusty. Transfer to cooling rack.
lemon vodka sorbet
I think this can be improved in terms of the texture so it would be worth fiddling with the quantity of vodka. I was guessing and trying not to keep my guests waiting. If you follow this to the letter, you will get a good sorbet, just not a mind blowing one. I infused my vodka with lemon zest for about 4 days.
1/2 cup vodka
zest one lemon
700g ice cubes
150g sugar
1 egg white
1. Place vodka and lemon zest in a jar. Leave for at least three days.
2. Place sugar in thermomix and mill for 20 seconds on speed 9.
3. Add everything else and slowly turn the dial to speed 10. Use the spatula to help move everything around. Sorbet will be ready in approximately minute
lemon and mascarpone stuffed pan fried spatchcock on bed of wilted spinach
I simply blanched the spinach immediately before serving. My only other deviation from the original recipe was to pan fry earlier in the day. Then I refrigerated. I let the spatchcock rise to room temperature before putting in the oven. It took longer for the birds to cook through that way but meant I could spend my time with my guests and not in the kitchen.
White chocolate panna cotta
from a thermomix/Nico Moretti class I attended recently. The recipe is Nico's. Start this one early the day before serving.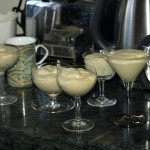 100g mlk
2 teaspoon vanilla essence
1 teaspoon vanilla paste
2 x 150 full whipping cream
150g fair trade white chocolate, chopped
2 gelatine leaves
30g icing sugar
1. Place milk, vanilla essence and paste and 150ml cream in thermomix and cook for 8 minutes at 80 degrees on speed 3
2. Add chocolate and cook for 2 minutes at 80 degrees on speed 3 or until dissolved.
3. Soak the gelatine leaves in cold water for 3 minutes then drain. Add soaked leaves into the mixture and mi for 20 seconds on speed 5 until dissolved. Remove and set aside to cool, then place in the fridge, stirring occasionally until mixture is starting to set (approx. 3 – 4 hours).
4. Place sugar and cream in thermomix and attach butterfly. Whip for 20 seconds on speed 4 until whipped. Do not over whip.
5. Pour cooled chocolate mixture into cream and mix for 20 seconds on speed 3, scraping down sides if necessary.
6. Divide into 6 serving bowls. Cover and chill for 24 hours. Serve with berry coulis
Berry Coulis
from Thermomix Everyday Cooking For Every Family
100g frozen strawberries
100g frozen raspberries
100g sugar
juice 1/2 lemon
1. Add all ingredients and cook for 4 minutes at 90 degrees, speed 4.