Porridge is our weekday staple, particularly in the cooler months. We never eat porridge on the weekends though. Never. I think there may even be an unwritten rule against it. Or maybe even written. Maybe I just wrote it.
Weekend breakfasts hover between eggs, toast, pancakes, benedict if I'm feeling fancy. I felt like breaking away a little this morning. I hatched this plan yesterday which was fortunate as I needed to slow roast tomatoes. Of course you could use any ready dried or semi dried tomatoes but where is the fun in that?
Feta, Tomato and Pesto Toast
4 – 5 tomatoes, cut into wedges
pesto
feta
toast
Place tomato wedges on oven tray. Sprinkle lightly with seasoning, muscovado and olive oil. Slow roast in 150 degree oven for about 4 hours.
Toast one side of bread. Smear other side with pesto. Top with tomato and chunks of feta.
Grill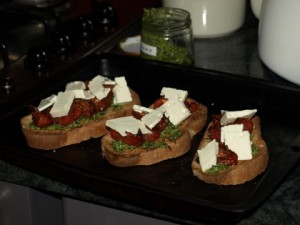 The Bread Winner did come home last night. It's his turn to sleep in. I'll make his when he gets up. Or he can do it himself if he sleeps too late as I'm off for my first hair cut in 18 months this morning. Wow. I'm totally living dangerously. Last time I had my hair cut it was a little shorter than this.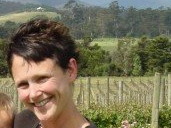 Now the fringe reaches my shoulders and the rest is half way down my back. Sorry, I got distracted, I hope the squinting woman with a bad dye job didn't put you off the food. I'll get back to the point now.
I served a side of scrambled eggs for the Ankle BIters as I didn't think the toast would be enough for them.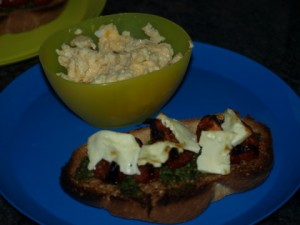 This could become part of the regular rotation, especially in summer when tomatoes are in season.