Have you seen Cold Comfort Farm? Or read it? If you haven't you should. Read and see it, both versions are brilliant. No idea why fritters for lunch made me think of it but I must haul the DVD out for my regular viewing.
Anyhoo, back to business.
I whipped these little fritters up in pretty much the time it would have taken to slap sandwiches together. Yummy scrummy little fritters. The kids were ecstatic as they are at anything that vaguely resembles a pancake and not a scrap was leftover. You could top them with goat cheese if you wanted to be all fancy.

Little savoury fritters.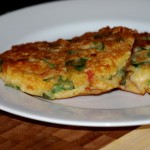 4 eggs
1/2 cup flour
1/4 cup milk
1 teaspoon baking powder
1 cup firmly packed baby spinach, shredded
1 medium tomato, diced
100g feta, roughly crumbled (leave some chunky bits)
2 slices free range ham off the bone, finely chopped
1/2 cup grated parmesan
Mix it all together. Heat a little butter and tablespoon of oil in a frying pan and fry up pikelet sized fritters until golden on each side.