Sounds gross doesn't it? Son and Heir was very excited to hear toe food was on the menu. Perhaps I should clean his ears because if toe food sounds good, imagine how exciting tofu would be!
I found this recipe floating around in a folder of cut out recipes. Judging by the lack of notations on it I've not made it before. I'm the type who always writes notes on recipes once I've tried them so I know if it was worth doing again or not. Loose leaf recipes not worth repeating just get thrown out of course. Anyhoo, this one is a winner and it will definitely be made again. I knew I'd like it as I felt like something light after positively gorging at Supper Inn last night with some girlfriends. Happily the rest of the family were just as enchanted by it's toe foody goodness.
Salt and Pepper Tofu
adapted from Australian Women's Weekly, February 2007
2 x 300g firm tofu
1 small red capsicum, sliced thinly
1 small yellow capsicum, sliced thinly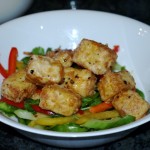 100g snow peas, sliced thinly
1 small carrot, sliced thinly
2 stalks celery, sliced thinly
1 bunch coriander, roughly chopped
1 teaspoon sea salt flakes
1 tablespoon Murray river salt flakes
1/2 teaspoon Chinese five spice
1/3 cup plain flour
rice bran oil for deep frying
Chilli Lime Dressing
2 tablespoons rice bran oil
juice 2 limes
2 tablespoons sweet chilli sauce
Dry tofu with a clean cloth. Cut each piece horizontally. Then cut each piece into 6 bite sized pieces. Place tofu pieces on a clean dry cloth and cover with another. Leave for 20 minutes or so. Combine vegetables and coriander in a large bowl.
To make dressing, combine all ingredients in a jar and shake well.
Combine flour and spices. Coat each piece of tofu in flour and shake off excess. Deep fry in hot oil. Drain on a clean cloth. Serve over salad. Dress.